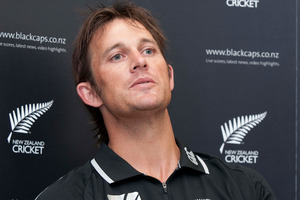 New Zealand cricket coach Mike Hesson and bowling coach Shane Bond have apparently now forged a solid working relationship and Brendon McCullum insists he had no idea Ross Taylor was going to be replaced as captain.
Those are the two major responses following Bond's inflammatory letter to New Zealand Cricket, leaked and published this week. In it, Bond presented scathing criticism of the head coach's handling of the Ross Taylor captaincy saga and included passages suggesting McCullum knew in advance he was going to replace Taylor as skipper.
So how come everybody is now happy?
It's been five weeks since Bond's letter landed and while media and fans have just learned of it, the principals involved have apparently mended some fences in the meantime.
Bond's letter, first leaked to Radio Sport, included eye-opening passages such as: "I believe the coach has been dishonest in his assertion around the miscommunication of the captaincy split with Ross", "it was clear to me that Ross Taylor was to be removed as captain from all three formats" and "by remaining silent I believe I have become complicit in what has occurred, which I believe is the calculated removal of the captain and the subsequent cover-up to save face."
Yet a source close to the team claimed the pair have discussed the situation at length and "agreed to disagree" with Bond "ironically starting to enjoy working with Mike (Hesson)". The Herald on Sunday contacted both Bond and Hesson to source their views. Both politely declined to comment. Hesson elaborated slightly, writing that "as you can appreciate we have plenty to do over here at the moment and keep getting sidetracked by this stuff, coincidentally? Cheers, Mike H".
McCullum denied this at the media conference before the first one-day international against South Africa overnight.
"I'd like to make it very, very clear I had no prior knowledge ... until I was offered the captaincy from David White after the board's decision. I've made that very, very clear to Shane and we'll go about acting in a professional manner which is best for this cricket team."
McCullum also commented on the management team: "They are working very, very professionally and cohesively."
Another source close to the team agreed: "Brendon has been wound up like a coiled spring over this whole issue. He had no idea he was going to be chosen as captain."
A number of former players and coaches spoken to about Bond - all of whom asked for anonymity - retained respect for Bond for fronting with his confidential thoughts, although some believed he lacked political savvy.
One former team-mate said: "He was one of the most honest guys I ever played with but he might've been a bit naive here". Another former New Zealand cricketer said: "Bond has integrity and calls it as he sees it."
Another cricket insider said Bond had shown loyalty to Taylor but "as far as being a member of a coaching staff goes, you don't write letters because it makes it look like you're looking after yourself rather than working together as a team."
The ongoing saga continues the 'nothing could surprise' theme for fans this summer, made up of a fanciful storyline which even fiction publishers would struggle to accept.
New Zealand Cricket have made much of the fact that Bond was never in the hotel room when, in NZC-speak, the "miscommunication and misunderstanding" occurred between Taylor, Hesson, manager Mike Sandle and assistant coach Bob Carter. However, neither was CEO David White and fans are being asked to accept his assurances re what happened.
The final remaining oddity is why NZC bosses insisted on going ahead with their media conference last month to apologise to Taylor, before they had fully investigated this now infamous "additional material".