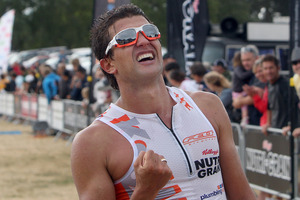 Five time world champion Terenzo Bozzone faces a difficult preparation for Sunday's Asia-Pacific Ironman Championship in Auckland after being knocked off his bike after cycling into a car door this morning.
"Disaster!! Out training on the course this morning and got hit by someone with their car door," he posted on his Facebook page this morning.
"My beautiful Argon 18 has some serious damage, my zipp 808s and Zipp Disc are all but destroyed. I have some pretty intense bruising but am hoping I can still race on Sunday. But to be honest I am 50/50 at best."
Bozzone is one of the favourites heading into the race which begins at 6.30am on Sunday.
Ironman media manager Ian Hepenstall said that Bozzone will be fine to race despite withdrawing from this morning's press conference.
"He's definitely o.k, he has a few cuts and bruises, but will be on the start line. He said he will be fine to race."
-nzherald.co.nz