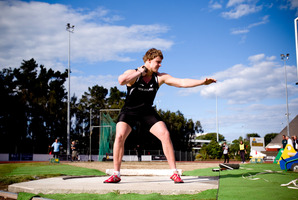 Young Kiwi shotputter Jacko Gill has been involved in a freak accident while recovering from a foot injury.
Gill injured his foot during competition last month, spraining it in three different places.
But his father Walter Gill says his son is a mess thanks to another incident.
"He was breaking up a dog fight and he's been bitten in the face by a dog and he's just had a couple of days in hospital so it's not going well so he can't lift or do anything at the moment because he's got a lot of stitches in the face, around his eyes."
Gill says Jacko will find out his ankle recovery plan on Monday.