Advancing age does nothing to dampen the fighting spirit of German third seed.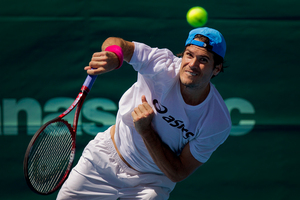 He's had three shoulder operations, hip surgery and an elbow operation. His nerves have been pinched by epidural injections, and he has waged war on atrophied muscles, knowing that they'll never be quite the same no matter how much gym time he puts in.
He stares at the ceiling in hotel rooms wondering why he isn't at home with his 2-year-old daughter. And yet, at 34, Tommy Haas is still out on tour, still playing so well he is the third seed at this week's Heineken Open.
Haas has defied time. Heading into last year the German - whose career topped out with four Grand Slam semifinals and an Olympic silver medal - looked gone after injuries and inactivity saw him slide outside the top 200. But he bounced back with a storming campaign, surging back to 21 in the world and achieving his goal of winning a 13th career title.
He did so in fine style, besting Roger Federer on grass in the final at Halle. It's the feeling he gets from glory days like that in the small east German salt-harvesting town that keeps him coming back long after the gathering of over US$11 million in prizemoney obliterated the financial necessity to do so.
"Sometimes when you are in the hotel rooms at night and you get a little lonely you are wondering ,'Why am I not at home?'
"But it is almost a Catch-22. You go out there and play in front of a few thousand people and you play great tennis and get applauded and it is such a thrill."
So Haas is back in Auckland, still chasing the thrill. He does so in the knowledge that the end is coming soon enough. He can't quite believe 13 years have passed since he made the final here in 1999.
"Whether it is 31, 34, 36, you know there is going to be an end to it, so you might as well just enjoy the ride," he said. "With my hip surgery I didn't really know if I was going to come back. Even last year in March and April I had some more injury problems, more doctors to see and more needles to be stuck in me.
"I'll never be 100 per cent again, but I am as happy as I can be. I don't have any injuries or problems where I can't play tennis.
"It's special to still be playing."
Even so, there are still moments when the aches, both physical and mental, get on top of him.
"You wonder whether it is still worth the grind. It is very important in those moments that you step back and think deeply about what you still want to accomplish."
This year, the goal is the same as last - win a title, and maybe go deep in a Slam. He is smarter and more relaxed on court and believes he's playing as well as ever.
His advancing age doesn't bring any privileges, but his seeding does. Like fellow big guns David Ferrer, Phillipp Kohlschreiber and Sam Querrey, Haas gets a free pass into the second round, so will take to the centre court at Stanley St tomorrow.
"I feel like if I am playing well I can still pretty much beat anybody, or at least give the top four guys a good run for their money. But everybody can play.
"You might be a little off and the other guy is playing some good tennis on the big points, so you can just as easily lose to anybody."
Coming to places like New Zealand, where he is recognised for what he has achieved rather than what he hasn't, is refreshing. At home, Haas is measured against the lofty standards set by Boris Becker and Steffi Graff.
"Ultimately they are still waiting for the next Grand Slam champion. Until that happens, you are not going to be good enough."
In Auckland, if he can produce his best form, he might very well be good enough.