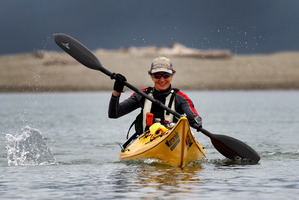 When Sarah Wilson was buried under a metre of snow on Aoraki Mt Cook in November 2011, her only chance of survival was friend Cat Shand digging her out with her bare hands.
A freak avalanche had struck when the pair had settled in for the night as they made their descent from the mountain, and only sheer good luck enabled Shand to perform the rescue mission.
When the snow rumbled down the mountain, Shand was standing up rather than lying in her sleeping bag, keeping her from being submerged.
Time running against her, Shand was able to burrow Wilson out of an icy grave and the pair spent the rest of the night on the mountain - with frostbitten fingers - before trekking out in the morning.
They had visions of completing their journey up the South Island on a bike but a doctor told them Wilson's first attempt at the Cook to Cook expedition needed to be aborted.
"We didn't really know how bad it was," she recalled. "We got down to the base of the mountain and, because we walked out ... we just didn't know how bad our hands were. We knew they were cold but we just didn't know and I remember saying to Cat, 'One day off and we'll be on our bikes and we'll be away'.
I'll never forget the phone call with the specialist that night. He was like, 'Girls, I think you might need to take a month off'."
During the next two and a half weeks, the Kapiti Coast 50-year-old will dive into her second attempt at the expedition.
The task involves climbing Aoraki Mt Cook, cycling 700km up the South Island, then crossing Cook Strait in a tandem kayak - it's a feat that has never been completed in one trek.
The journey is scheduled to start either today or tomorrow, and they're working backwards from a tide window in the Marlborough Sounds from January 19 to 24, which dictates when they can complete the kayak.
Wilson's last attempt nearly proved fatal, but fear is something she has no problem confronting.
"I've thought a lot about fear, particularly in the past year, and I think, more and more, fear is something that people push away," she says.
"We medicate, we don't want it, we want to overcome it but actually there's a lot to learn if you literally breathe in to it. So I actually use breathing, I consciously breathe in.
"It's funny, because when I was trapped in the avalanche, I couldn't breathe. There wasn't enough oxygen so the big moment when Cat pulled the snow from my face and I took a breath in, it was pretty special. I've used that to inspire myself."
It's why she will give the Cook to Cook another go.
"I guess it's one of those missions you kind of get in your head that doesn't let go of you," she says. "Forgive me, but I think it's a really cool idea and it was this idea that you can have a world-class adventure in your own backyard anywhere around New Zealand."
Wilson's journey is one of seven Hillary Expedition Grants administered by Sport New Zealand announced in November.
Bridget Janse will tackle the climb with Wilson, and Bronwyn Ward will join the pair for the cycle, and a support group will ride with them in a trip that will take six days to complete.
"Instead of road biking the whole thing, we're going to come up via Hanmer and mountain bike up the Rainbow Valley, so we're going to mix it up a bit with some different scenery," Wilson says.
From there, she will link with her 24-year-old nephew, Luke Wilson, for the two-day kayak leg. The family act for the kayaking trip is something that didn't seem likely a few years ago.
"He's a real treasure, is Luke," Wilson says. "He likes risk. He's a young man and he had risk in all the wrong areas in his life ... The second time he was in front of a judge the judge said, 'You have leadership skills, they're just in the wrong area'. So he discovered the outdoors and he's now become an outdoor instructor and he's just way-keen.
"He inspires me, actually, just because he's out there and doing stuff and he's just turned his life around. It's impressive. I'm his adventure aunt so it's a bit of a power combination."
You get the feeling few people have a more enthusiastic outlook on life than Wilson, which she channels into her work as an adventure coach.
"It's kind of life coaching with an adventure twist," she says. "So we create goals and milestones and all these good things and then we use adventure like a motivator for people to really get stuff beyond just talking about it. So I do that with teams and individuals."
Wilson will have a few inspirational stories of her own to tell if she can conquer the Cook to Cook.
- APNZ