Otago-ite achieves a convincing 21-10 over Onehunga's Danny Delany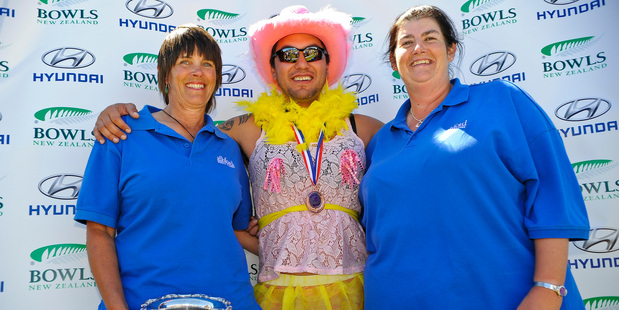 Shaun Scott sent a strong message to the selectors who shunned him for last year's World Bowls with a convincing 21-10 over Onehunga's Danny Delany in yesterday's singles final on a windy Paritutu green.
Sandra Keith followed Scott's lead when she and Dunsandel clubmate Serena Matthews won the women's pairs to again remind the selectors she deserves her chance internationally.
Delany, who like Scott played for New Zealand in last year's six-nations but was then overlooked for the trip to Adelaide, led after the first, third and fourth ends but not again as Scott raced home with three shots on the 16th end and a maximum four on the next to slam the door.
Delany, 33, had ousted Rowan Brassey in the semifinals while, at the same stage, Scott thumped Shannon McIlroy who was handed the World Bowls singles berth ahead of Scott.
Scott, 48, a self-employed fencing and paving contractor in Cromwell, claimed his second singles title after beating Petar Sain two years ago and will now go on to represent New Zealand at the World Champion of Champion Singles in Christchurch later this year.
"It was a difficult final," said Scott. "It was hard punching into the wind which was one of the reasons I opted to play short ends when I had the chance."
A cousin of well-performed Terry and Jim Scott, Shaun Scott drove to kill the fourth end when down two shots but otherwise left it to his draw play to get him home over a disappointed Delany who admitted the final was "hard work" in the conditions and only added to how he felt after being ditched from the New Zealand team.
For a time, the women's final seemed to be heading for a similarly one-sided result.
Birkenhead's Reen Stratford led Val McEldowney 8-5 after nine ends - the same score as the men at the same stage - but rather than follow Scott's path to victory, Stratford lost her way after stretching her lead to 17-9 10 ends later.
Stuck on 17, Stratford could do little as hometown favourite McEldowney, from the nearby New Plymouth Bowling Club, piled on the pressure scoring two threes, two twos and two singles to close it out for the biggest win of a long career.
"Last year I didn't win in a game in section play," said McEldowney who admitted she had set the pairs, with clubmate Margy Carey, as her goal. "The closest I have been in the singles before was making the last 64 16 years ago.
"I'm a real shot out of the blue," said McEldowney who will join Scott at the World event in Christchurch.
Stratford, the 2010 pairs champion, admitted she found the conditions difficult as the game progressed.
"I got stuck on 17 and couldn't do anything about it," said Stratford who had reached the last eight on a previous occasion.
"It was a great game and congratulations to Val for the way she came back."
Auckland's lean pickings continued in the men's pairs when St Heliers' Barclay Lee teamed with Rob Ashton in a composite team and went down 15-9 to Ali Forsyth and Matt Gallop in the men's pairs.
It was a fifth national title, and gold star, for Forsyth who joined the handful of bowlers to win singles, pairs and fours titles.
"Absolutely that was on my mind," said Forsyth. "It was not easy as a draw, drive rink but it suited the way we wanted to play."
Keith, the current world champion of champions titleholder, said their win was compensation for last season when they lost to the eventual winners in the semifinals.
For Black Jack Mandy Boyd, again teamed with sister Angela, it was more heartbreak losing her fourth final - including three a year ago - since winning the 2011 fours.
Fours play starts today with finals to be played on Wednesday.