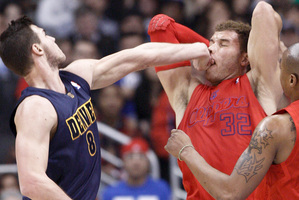 Battle of the sixes
Sir Garfield Sobers and Herschelle Gibbs have done it - and now so has Canterbury country cricketer Dee Taulani. Taulani, a Tongan international, achieved the batsman's ultimate dream of smashing six sixes in one over when his Oxford team beat Rangiora in Saturday's North Canterbury senior cricket match. Batting at No9 since his specialty is medium pace bowling, Taulani faced Fraser Hill, who had just bowled a wicket maiden and was sitting on 2-32 from six overs at Pearson Park. But his day was swiftly ruined when Taulani hit him six times in a row over the mid wicket boundary in the 39th over, in a spectacle which Oxford fans will remember for years. "Their bowler had been bowling well, but no matter where he bowled the ball, it went in the same place," said Oxford captain and club secretary David Fulton. No one playing in the match had ever seen or heard of the feat being achieved before, he said. But even the Rangiora fielders seemed impressed - "only the bowler did not appreciate it". Taulani, who has been playing for Oxford about three seasons, finished with 50 not out, while Fulton topscored with 52, "but mine took about 80 more balls", Fulton said.
Bro-mance
There's two ways you can view Martin Guptill's effusive praise for former skipper Ross Taylor after his stunning, match-winning century in game two of the T20 series won 2-1 by South Africa. It was either: 1. A rather sweet shout-out to an absent friend, or; 2. An awfully naive piece of socio-political manoeuvring. Guptill's squeeze is Laura McGoldrick, daughter of Leanne, who happens to be Taylor's manager. Understandable, perhaps, though the guys who have got his back while he's over there might have been forgiven for the odd raised eyebrow.
Talking turkey
Roberto Mancini, boss of champions Manchester City, broke new barriers in managerial gobbledygook after a shock loss at Sunderland in the Premier League. "The referee, he ate too much for Christmas," said Mancini. "He was not in good form. Him and the linesman, I think after Christmas it can happen." Mancini should check out his own players' menus after claiming: "Sunderland are really lucky against us at home. We created 15 to 20 chances, this year, last year and the year before and then we lose the game." Too much stuffing leads to not enough stuffing the ball in the net, perhaps?
Power to the people play
Montreal ice hockey player Josh Gorges invited fans to join him for a game at a neighbourhood rink on Boxing Day as the NHL owners v players lockout hit the 100-day mark. Oh where would the world be without Twitter, although the turnout wasn't that great. Jorges has 23,000 Twitter followers, but reports said "dozens" turned up to play. He's thinking of organising another one.
Sharp dresser
Scotsman Gary Anderson is proudly calling himself the worst-dressed competitor at the darts world championships in London. Having worn sombre garb for years, he succumbed when approached by a company called Foul Fashion whose motto is "So bad, it's good". Maybe they're the mob responsible for dressing golfers for years.
Family fun
Just when you think it's a bit quiet on the Mario Balotelli front - the crazy Manchester City soccer star's brother has hit the headlines after hitting Italian police officers who aided him in a bar attack. The 20-year-old Enoch Barwuah, who is signed to Salford City, has conceded his reaction was unjustified. The brothers have a sister named Angel, although it is unclear - and probably unlikely - that she is one.
Plain wrong story of the year
Turkish police fired tear gas after fights broke out between rival fans of Galatasaray and Besiktas ... during a wheelchair basketball game. Supporters of two of Istanbul's top teams started brawling at the game and injured several athletes and trashed their wheelchairs. The violence escalated after small groups chanting offensive slogans carried the row to the sidelines of the basketball court, where they wrecked players' wheelchairs and ripped equipment to pieces. Police used tear gas and the game was cancelled. "Sports are now officially dead in this country," Galatasaray wheelchair basketball coach Sedat Incesu told NTV.