Chairman dismisses conjecture over coach's fit for club's future but says succession plans needed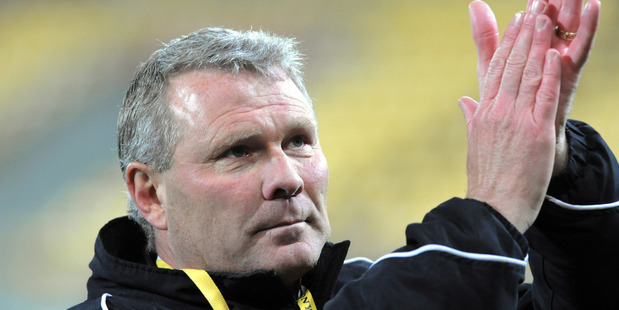 Ricki Herbert's reign as the longest-serving A-League coach is under scrutiny but he will still be at the Wellington Phoenix beyond this season.
In just what capacity, though, has yet to be decided as the club considers a "Barcelona-style approach" to win over the fans.
Speaking after recent comments from board member Gareth Morgan which hinted at a major upheaval at the club, chairman Rob Morrison moved to clarify the position.
"Gareth's comments were taken in a way that suggested he had told Ricki Herbert how the team is going to play. A lot of what he said was taken out of context," said Morrison. "I have since spoken to Gareth to clarify some things.
"It came out that Gareth wanted Ricki to use a 4-3-3 formation and play total football. This emerged after Ricki had brought to the board a number of suggestions that he considered key to ongoing success at the club.
"Make no mistake, we want the club to be as good as it can be and that means we have to be better than other A-League clubs," said Morrison.
"Ricki gave the board an extensive presentation pointing out that Barcelona was the best example of what we should aspire to in seeking to play a possession-based game.
"But ... you need a certain type of player at a certain fitness level to achieve that. Do we currently have those players, the answer is no."
The club has already addressed that.
Highly regarded sports scientist Ed Baranowski, who has worked alongside top English managers including Kenny Dalglish, Joe Royal and Sam Allardyce, will return to the club in a fulltime conditioning/sports medicine role.
"We want to achieve English Premier League fitness levels, not A-League," said Morrison. "Ed will take us to that in two or three years."
Morrison knows there is no quick-fix, which leads him back to the whole football strategy put forward by Herbert and which will lead, in the short rather than long term, to a restructure.
The first team will be at the top with support, as at present, from a school of excellence and below that an extensive academy programme.
"Ultimately, that means recruiting players who we feel can, and will, adapt to the style we want to play," said Morrison. "In doing that we will become less dependent on going to the transfer market. We accept it will take up to five years but at least it shows we are in for the long haul."
Current Hyundai A-League leaders Central Coast Mariners are a prime example of this. They put an academy structure in place from day one and have consistently promoted players who have come through their system.
"We need to develop a total club culture. We are aware that six players are coming off contract at the end of this season and we have to recognise some of them, and others, will not be around in five years," said Morrison.
"Therefore it is important to set a framework. It is not about individual players but more a long-term strategy.
"We need to get a scouting network which is something Herbert is adamant about. But, will he always be the Phoenix coach? No.
"But he will be with us long-term. One thing he, and we, might consider is naming an assistant for next season and groom him to step up."
Morrison said the board wants to develop a financially self-sustaining football club.
"Some fans would like us to go out and buy players but our long-term aim is to attract players and develop a style which will be attractive.
"That is the challenge for us. Some say you can't run a football club like a business but if you talk to the big franchised clubs in America, they will tell you they are not charities and that you can't rely on external funding. We have to invest in our own future."
Such grandiose plans might have fish hooks but as Herbert points out, if the club can bring players through an academy system and promote them at a cost of, say, $80,000 a season that leaves money which can then be spent on attracting higher-valued players to the club.
It promises to be an interesting exercise and one likely to test the patience of fans who, and at times, rightly, want results now. Starting today.