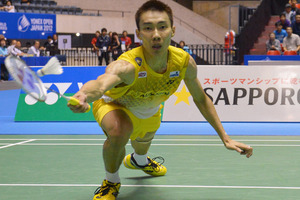 When you're Lee Chong Wei, a world champion billed as one of the most popular men in Asia and someone who "literally can't leave his house without being mobbed", well, you can afford to be late to a press conference.
And so it was that the world No1 badminton player entered a hushed room at Auckland's Sky City today as Badminton New Zealand prepared to announce a new tournament on the World Federation Grand Prix circuit to be held at the North Shore Events Centre from April 10-14 next year. It will have a prize pool of US$50,000 and follows straight after the Australian edition, two reasons why organisers are hopeful of a high-quality field.
He was 22 minutes late, but still qualified for a round of applause from the master of ceremonies, because he is Chong Wei, and, according to Badminton NZ's press release, "having Lee Chong Wei put his name anywhere near the tournament is like Richie McCaw times 10 putting his name next to the All Blacks". It was the "additional info" section on the press release which also gave us an idea of Chong Wei's security issues.
After the speeches, however, we learned the Malaysian was unlikely to play at the tournament, which could attract more than 300 players from around the world and will be televised live in Asia. He said he had a tight schedule next year, including the Sudirman Cup, which will be held in Kuala Lumpur in May and which would take precedence.
Chong Wei is in Auckland on honeymoon after his wedding to Wong Mew Choo in Kuala Lumpur last month, a televised event which more than 2500 people attended, and it was the man from Sky City, which will have naming rights to next year's tournament, who spoke the words many must have been thinking today - "you must have a very patient wife".
The 30-year-old spoke about how he liked Auckland, a little bit about his wedding, and how he had recovered from a recent quadriceps strain.
He signed two oversized shuttlecocks which resembled giant paperweights, posed for pictures, spoke a little more to the media, then settled down to what looked like a potentially arduous autograph session. While the press conference was under way, about 150 of his fans had quietly formed an orderly line outside the conference room, eagerly awaiting their chance to be near sporting royalty.
Chong Wei turned up late but was unlikely to be leaving early. Very patient indeed.
- APNZ