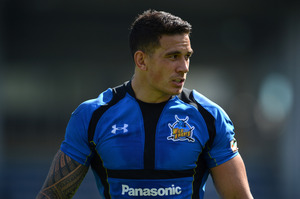 The initial prognosis was not promising but Panasonic hope Sonny Bill Williams will play for them again this season.
When he tore his pectoral muscle playing Mitsubishi Dynaboars in late October, it was expected to sideline him until at least the beginning of the NRL season in March.
But Wild Knights head coach Norifumi Nakajima said the club was not ruling out a Williams return.
"We hope he will come back and play for us in the finals series," said Nakajima, through a translator.
"He is a very important player and would be good to have him fit for the play-offs."
The Japanese Top League season culminates with the final on January 27.
Williams declined to speculate on a return but said his rehabilitation was progressing well.
"I can do just about anything except for the extended range of movement with the shoulders and arms," says Williams, drawing back his elbows.
"In a way, it's been a blessing in disguise. Over the last three or four seasons, it has been non-stop. Now I have time to get the body right and get fitter and stronger."
Williams was reluctant to discuss the upcoming NRL season and evaded a question about the prospect of winning a second World Cup (with the Kiwis), simply saying, "I don't want to talk about that at the moment".