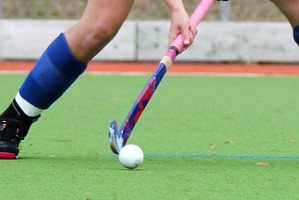 The Black Sticks women's hockey team have retained their winning run in the series with India after a 3-1 victory in Palmerston North tonight.
But yet again the young New Zealand side had to come from behind to claim the win after letting the visitors go 1-0 up. The eventual win was sealed with a late goal from local Manawatu player Michaela Curtis, who scored her first international goal in only her second match for her country.
Head coach Mark Hager said it was another scratchy start from the new-look team who were captained today by Wellington's Anita Punt.
"We simply weren't winning the one-on-one battles in that first half, and India looked like they brought a lot more energy to the match than us.
"It was pleasing to see us come through with the win but we really need to start better tomorrow and not give them a head start.''
After India took the lead early in the game they let the Black Sticks back in at the break with an own goal after a cross from Punt. In the second spell Katie Glynn, from a drag flick penalty corner, and Curtis made sure of the victory.
FIH young player of the year last year, Stacey Michelsen was outstanding for the Black Sticks in the second spell, while Canterbury's Amelia Gibson was solid in goal.
Tomorrow the two teams will meet again in Palmerston North in the fourth test of the six-test series. The final two games will be in Wellington on Friday and Saturday at the National Hockey Stadium in Newtown.
Tickets are available at www.iticket.co.nz. Gate sales also available.
Result:
New Zealand 3 (Katie Glynn, Michaela Curtis, own goal)
India 1
HT:1-1.
- APNZ