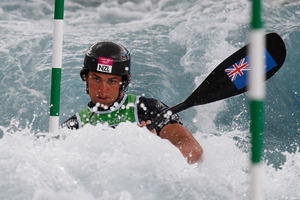 Kiwi kayaker Mike Dawson has taken the lead after the first stage of the Whitewater Grand Prix in Chile overnight, despite a pre-race mishap which threatened to end his season.
The Olympic slalom paddler rocketed down a series of rapids on the Rio Gol Gol, heading off 24 of the best extreme paddlers in the world in a whitewater endure format, to take out the first of seven epic stages.
His time of 4mins 22.89secs was nearly 5secs ahead of Isaac Levinson (USA), with another US paddler Dane Jackson a further 6secs back.
New Zealand's Louise Jull and Lu Urwin were fifth and sixth respectively in the women's division.
Dawson needed an MRI scan to clear him of a fracture in his back, after taking a heavy pummeling in a warm-up paddle last week.
He still raced with a suspected compressed disk, along with lacerations to his face, but was still good enough to take the lead.
His last competitive outing was a win in the prestigious Green River race in North Carolina last month, after a season dominated by extreme race wins and his debut at the London Olympics.
First stage results: Whitewater Enduro:
Men: Mike Dawson (NZL) 4:22.89 1, Isaac Levinson (USA) 4:27.61 2, Dane Jackson (USA) 4:33.40 3, Evan Garcia (USA) 4:34.41 4, Michele Ramazza (ITL) 4:36.69 5, Eric Deguil (FRA) 4:36.90 6, Jakub Nemec (CZE) 4:37.27 7, Todd Wells (USA) 4:40.40 8, Marcos Gallegos (CHL) 4:46.26 9, Ben Marr (CAN) 4:47.43 10.
Women: Nouria Newman (FRA) 5:00.76 1, Martina Wegman (NLD) 5:08.55 2, Katrina Van Wijk (CAN) 5:25.82 3, Natalie Anderson (USA) 5:33.64 4, Louise Jull (NZL) 5:41.14 5, Lu Urwin (NZL) 5:45.83 6.
- APNZ