Changes expected as the All Blacks swallow their recent disappointment and prepare to do battle in Britain.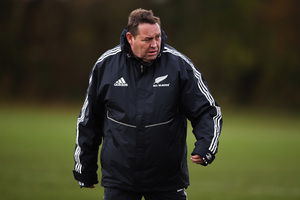 It's been more than a decade since the All Blacks ventured to Perth on the banks of the River Tay in central Scotland.
Like the decline of the local whisky industry, such ventures from international rugby teams have shrunk.
Since that day back in 2001 when the All Blacks turned out for a 35-13 victory against Scotland A, they have played only three games outside their test schedule.
There was an outing against the Barbarians in 2004, a special game with Munster in 2008 and the Barbarians once more the following year.
Around that it has been a mass of internationals as the All Blacks and their administrative masters have worked to balance the books, keep players on their payroll and deal with the IRB rosters.
If 2001 gave the players just a little taste of rugby outside the test arenas, you had to go back eight years more to find the last time the All Blacks played a few games in Scotland.
It was 1993 as they worked their way through the opposition in Galashiels, Glasgow and Edinburgh before they rolled up for the test against Gavin Hastings' mob.
A quartet of All Backs made their debut that afternoon, including wing Jeff Wilson, who scored three tries and kicked a sideline conversion in the 51-15 drubbing of their hosts.
Fellow new boys that day were Stu Forster, Steve Gordon and Marc Ellis.
Ellis was best known as a utility three-quarter for Otago and the year before he had been picked for the All Blacks' midweek sides in Australia and South Africa as a centre.
But a year later, current selector Grant Fox retired after the domestic series with the British and Irish Lions as the panel pondered his replacement. Stephen Bachop was in the frame again as coach Laurie Mains and selectors Peter Thorburn and Earle Kirton considered options.
Who knows who delivered the most persuasive arguments among that group but it's likely that Kirton, who favoured some left-field theories, persuaded the others that Ellis should be shifted to first five-eighths.
There was no doubt about Ellis' running and defensive game, he was a confident bloke with the ball and was used to all sorts of biff and bash in midfield.
The uncertainty was about his game direction and the tactical kicking needed for games at the highest level. But the panel took the plunge and rated Ellis as a stronger player under pressure than the gifted but flighty Bachop.
Up stepped Ellis for his test debut at Murrayfield, gathered two tries and led the side imperiously around the park for their huge victory.
Goldie got most of the accolades because of his hat-trick and fascination about his ability to mix rugby and cricket, but Ellis was not far adrift.
A week later both men were downcast in the dressing rooms at Twickenham as the All Blacks fell 15-9 to England.
There is little room for those sort of selection experiments on the All Blacks' current visit.
Starting Tawera Kerr-Barlow and Dane Coles would qualify but there is more chance of Steve Hansen swimming the Firth of Forth. Instead he, his crew and the squad are fixed on addressing some of the frailties which crept into their work in the last test against the Wallabies.
They know they could have taken an unlikely victory had Daniel Carter's after-the-hooter dropped goal been a metre to the left. They would have taken that win no matter what.
An 18-all draw was better than a loss but they left Suncorp Stadium with little taste for festivity knowing they had blown their chance for a tilt at a world-record winning sequence.
The All Blacks have shelved that despair, flown halfway around the world and have Scotland in their sights as the first foe on their end-of-year tour on Monday.
The side will be revealed later tonight and there will be changes. Not because of Brisbane but because of the need, as the selectors see it, to split some of their resources and get everyone into work during the opening tests against Scotland and Italy.
Who knows, the division of some labour may flush out some new ideas, reinvigorate older talent or show up a few whose production may have been concealed in the team approach. Hansen, a bit like Kirton, is prepared to think outside the accepted selection templates; he is always looking for something new, some tactic or play to stay ahead of the world while still attending to basic rugby formulas.
He may use Ben Smith at centre or rearrange his loose forwards.
Whatever he does, he wants to hit Murrayfield with a team full of certainty. He wants them to be so sure of their work that they do not have time to get twitchy.
It's been only a few weeks since they last played; they have that advantage over Scotland who are starting their winter test programme.
No matter, no mercy will be Hansen's call. He will also lay it on the line that test positions are open for the matches with Wales and England. These are auditions for everyone - show us what you've got.
If all that fails and the All Blacks trip up for the first time against Scotland, Hansen may as well wade out into the Firth of Forth and swim.