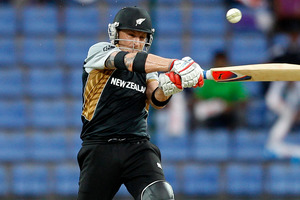 New Zealand Cricket today confirmed the second and third one-dayers of the Sri Lankan tour will now be played in Pallekele due to R. Premadasa Stadium in Colombo being waterlogged.
The Black Caps travelled to Colombo this morning and will now return to Kandy tomorrow ahead of the relocated second ODI at Pallekele International Stadium.
They have already had two matches rained out in Pallekele, with the solitary Twenty20 the only game so far on the tour which has seen the players take the field.
"Colombo has had a period of extremely wet weather, which has forced Sri Lankan Cricket to move the matches to Pallekele," Black Caps manager Mike Sandle said.
"A lake close to the Premadasa has risen significantly, causing the water table so high that it is affecting the ground's ability to drain. I understand it is currently fine in Pallekele and we are hoping the weather is kind to us so we can get some cricket underway."
The second and third ODIs in the five-match series will be played on November 4 and 6.
- APNZ