Aussie veteran Hodge will open season but star Pakistani pencilled in to play from late December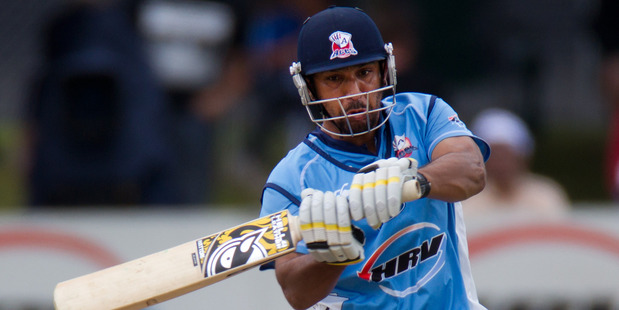 Auckland hope to have talismanic Pakistani allrounder Azhar Mahmood back as they aim for a third straight domestic T20 title this summer.
Mahmood was top value as Auckland won the HRV Cup last season, was a strong performer in their Champions League campaign, which ended in South Africa this week, and is top of Auckland's list as the second overseas player for this season, alongside regular fixture Andre Adams.
But they haven't got Mahmood across the line yet.
The cup schedule is lopsided. Auckland play their opening game at Wellington on November 16, but not again until December 21, by which stage they hope to have Mahmood in place for the remainder of the competition, which ends on January 20.
Auckland have signed veteran Australian Brad Hodge for that opening game. Hodge did time with Northern Districts and, at 37, remains an in-demand player in the shortest form of the game. He has signed a two-year deal for the Melbourne Stars in Australia's Big Bash League.
Also in the mix for New Zealand teams are a range of English cricketers, who are being hawked around hoping for a gig shortly before the English team arrive for their tour from mid-February to late March.
Some hope to be in the right part of the globe when England arrive in case of injury and a door opening, some are bread-and-butter county players.
"Two or three have been promoted along those lines, but others are at least looking at getting more cricketing opportunities," Auckland chief executive Mark Cameron said yesterday. "If you do all right (in the HRV Cup) there's an opportunity to put yourself in the shop window and the reality is some guys with their Champions League performances have enhanced their reputations internationally."
Auckland are still looking, but Cameron made it clear Mahmood is their preference. Hodge was signed partly because there was no point having Mahmood play on November 16, then twiddle his thumbs for over a month.
"That's where we're heading," Cameron said. "His stocks have risen over the past 12 months. There is a willingness on both parties to strike a deal but there are some things that have to be worked through."
It is understood Mahmood may have an arrangement to play part of the controversial Bangladesh domestic T20 league, whose record of paying its players is poor. That league starts late on in the HRV Cup.
Although it ended on a damp squib with a disappointing loss to the Perth Scorchers, which probably cost them a semifinal place, Auckland's performances at the Champions League bettered by far any of the previous efforts by New Zealand's representatives over the previous three years.
They beat the Sialkot Stallions and Hampshire to qualify for the tournament proper, then the Indian Premier League champions Kolkata Knight Riders. Add in toppling Trinidad & Tobago in a warmup game and that's four champion teams from three countries, plus the IPL.
"The players did really well because those teams were no mugs," said Cameron. There was also a handsome reward for Auckland's efforts.
The US$500,000 ($611,162) participation fee is split 50-50 between the players and the six major associations, with about US$200,000 collected for making the main draw, again split the same way, less preparation costs for Auckland.
Cameron confirmed that, in a roundabout way, it was made clear that it was high time the New Zealand representatives performed in the tournament. They had lost all eight games over the past three years, and hard looks were being taken at whether to persevere with a New Zealand team. For that reason, Cameron said the win over Kolkata was highly significant "not just for Auckland but also New Zealand Cricket".