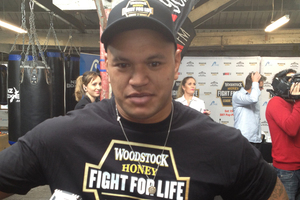 There is a developing theme among many of New Zealand's top rugby and league stars that an off-season celebrity boxing bout will improve their on-field performance.
Rugby World Cup winner Sonny Bill Williams mastered the cross-code transition, Liam Messam backed up his 2011 Fight for Life bout with his first Super 15 title, and Issac Luke gave Christian Cullen a thumping before leading the South Sydney Rabbitohs into the NRL playoffs last season.
So when Chiefs hooker Hika Elliot was announced today as one of the latest 2012 Fight for Life participants, the question was not why, but how?
Elliot is fighting for a spot in the All Blacks' three-week European tour which ends 14 days before his bout on December 15, likely to be against New South Wales State of Origin skipper Paul Gallen or Gold Coast star Greg Bird.
The 26-year has evolved into the heir apparent to the All Blacks' front-line No 2s - Kevin Mealamu and Andrew Hore - but will be a lock for the Maori All Blacks who are also touring Europe at the same time.
Elliot denied that his involvement in the fight symbolised that he was out of the running for the All Blacks spot after a "disappointing" ITM Cup season with Hawkes Bay.
"I don't think my provincial team helped me in terms of making the All Blacks end of year tour. But I like to think that because I have been there and done that before that the selectors can look past that.
"I confirmed that I would be involved in this fight a while back, but all things going well I hope to be on that All Blacks tour."
Fight for Life promoter Dean Lonergan said that they would send a trainer away on tour with Elliot to get him in fighting shape.
"On these tours the guys always have a lot of spare time," Lonergan said. "It's only an hour a day probably five days a week, and I can promise that if Hika does make the tour; and I've got my fingers crossed that he does, he will be the fittest he's ever been and I think his rugby will improve as a result.
"He's already dropped two or three kilos through the hard training."
Elliot has no formal boxing training, but is a black belt in karate, a skill set he doubts will help him much in the ring.
"Not being able to throw kicks has been the biggest adjustment I have had to make. To a martial artist or kung fu expert, throwing a kick comes second nature and that's been a hard thing to hold back on.
"Boxing is refreshing. A new challenge. Doing rugby week in week out, day in day out, eating, breathing rugby - sometimes it can get a bit mundane. To mix it up with a bit of boxing here and there, bit of martial arts puts me in good stead."
Elliot is joined on the rugby fight card by former All Blacks Troy Flavell, Carlos Spencer and Rene Ranger, while the League side will be represented by Knights NRL star Willie Mason, Kiwis great Jarrod McCracken, Bird and Gallen.