She's the glamour girl of the Silver Ferns, dating a French-based rugby star and wants to design shoes. But Maria Tutaia still lives at home with her parents and doesn't plan on moving out any time soon. The 25-year-old talks about the handshake that changed her life, family plans and life after netball. She indulges her love of fashion, too, posing as a fashion model for Canvas. Words by Alan Perrott, pictures by Babiche Martens.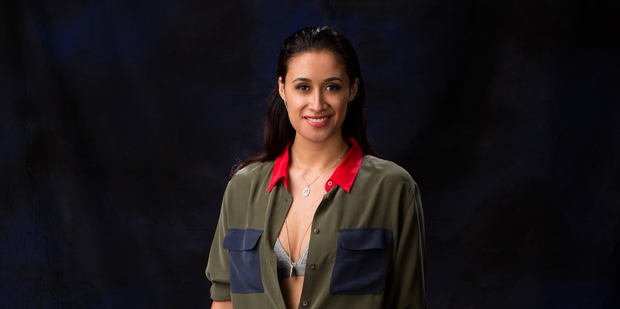 Just one cloud at the wrong time and Maria Tutaia's career would have been over before it began.
The shy 15-year-old was loping over to her Lynfield College teammates when she passed by New Zealand under-21 coach Te Aroha Keenan.
An injury in Keenan's squad had sent her to the courts in search of raw talent and, from where she sat, she could see the shadows of the girls walking behind bobbing across the asphalt.
She paid them no mind until one swept by that was much, much longer than all the others.
"I must have looked like a tall Christmas tree," says Tutaia now, 10 years later. "The Lynfield uniform was all green and I was this lanky girl ... but I didn't notice [Keenan] and I had no idea who she was anyway. I went over and played and then later on I saw her talking to my dad."
Tutaia may not have paid much attention at the time, but Keenan was struck.
"She was six foot-plus [over 1.8m], which got me wondering how I'd never noticed her before. So I followed her to her the court and saw she was playing goal attack, which only made the fact I'd never heard of her even more amazing. I watched her run all over the court and shoot from anywhere, then went looking for the tallest dad for a talk."
Then everything changed in a handshake. Keenan made Fuisami Tutaia a one-time only offer he couldn't refuse.
It was a punt - Lynfield was no hotbed of netball talent and even though Tutaia had made the Auckland under-15 squad, she had been cruising and it was far from certain she could foot it with the older girls.
"But that didn't sink in until [Keenan] started working my arse off," says Tutaia.
For days on end at 6am a car horn would sound outside her West Auckland home and off she'd go to Cornwall Park to chase Keenan's bike and carry large rocks up and down hills.
Several other budding teens were sharing her hard time, including the likes of Laura Langman and current Silver Fern captain Casey Williams.
Each was chasing a spot in the 20-strong under-21 squad to take on the South Australian Institute of Sport and there were plenty of older players dead set on keeping them out.
They all made it and while Tutaia didn't play, she showed enough potential for Keenan to take her under her wing. So much so that in 2004 she transferred to Mt Albert Grammar to join the coach's new premier grade team. With Tutaia as captain, the side eventually finished fourth in the national finals.
Her Samoan parents must have congratulated themselves for bringing their six children up to Auckland from Tokoroa when Maria, their youngest, was only 1.
But it wasn't until she started playing netball at Chaucer School in Blockhouse Bay that sport became Tutaia's thing.
And, as with her break on that sunny day, it was someone else's misfortune that opened a new path.
When Chaucer's shooter got injured, the coach threw her bib to the wing attack - who also happened to be their tallest player. And wouldn't you know it, her first goal was one of her now-trademark bombs from the edge of the shooting circle.
"I remember I shot it from my chest," says Tutaia. "I wasn't strong enough to lift the ball over my head and I did a little jump as well. But it went in and I've been hooked on shooting ever since."
As encouragement, her dad brought a hoop from The Warehouse, attached it to a pole and, much to her brother and sisters' annoyance, plonked it in the middle of the backyard they used for rugby and volleyball. It was set at full height, no kiddie sizes here, and 9-year-old Tutaia was soon potting goals from as far as possible, after getting bored with shooting from underneath.
She'd found her range, the only thing to stop her now was application.
Fitness and strength were not her strong suits - not that they mattered much when she towered over her opponents.
"They were always my downfalls, the parts of the game I struggled with," she says, "but [Keenan] made it clear that if I didn't sort that out I'd never make it. She set benchmarks and I always knew that if I didn't meet them, I'd be out.
"So I owe her a lot, she's done things for me she hadn't tried before or had done for other players. She didn't have to do it either, there were lots of older older players who could have done the job. But she saw something in the younger ones like me and had the balls to back her decisions up."
Keenan's talent spotting abilities were proven when three of her charges - Tutaia, Langman and Williams - were called into the Silver Ferns squad in 2005 to face England.
Tutaia was at the University of Auckland, studying fashion, when she got the call from the then Ferns' coach, Ruth Aitken. Again, someone was injured and she was needed. "And now, please," said Aitken, "we're playing tomorrow."
There was no time for reflection. As she later told the Herald, she had no idea the selectors had been interested in her, so all she really felt was shock.
Then she got home.
"Mum had heard about it on the radio and when I got out of the car she ran out of the house and spear-tackled me. There was peak hour traffic driving by and here was my mum in her lavalava, leaping on top of me. All these people were looking at us, they probably thought I was getting a hiding."
There was little time for celebrating either, she had to pack her bag straight away and head to the team's hotel. "That was bloody scary, I was a nervous wreck."
She needn't have worried. The team gathered, welcomed the newcomer with a waiata, Wahine Toa, and then presented her with a tracksuit. It was heady stuff for a teenager. Coach Ruth Aitken said she appeared wide-eyed and innocent.
Again, she didn't get any court time but with the buzz around the rising generation of youngsters, her first full international cap was always going to be a matter of when, not if.
First though, the teens had a World Youth Championships in Miami to deal with. New Zealand hadn't won the title since the late 80s and Keenan was certain she had discovered the talent for the job.
After laying waste to the lesser lights, they beat those Aussies by one point in the semi-final before sweeping England 53-39 in the final.
Tutaia top-scored with 28 goals and finished as the tournament's 6th highest point-scorer.
Any thought of that being her 2005 highlight ended when she put on the little black dress to play Jamaica. "Hearing the anthem, I cried to myself on the inside ... just thinking about Mum and Dad ... then finally getting my hands on the ball and sinking my first goal, there was a lot of pride."
It's the same story 69 caps later. Before the second test of the recent Constellation Cup series against Australia you could see Tutaia withdraw into her head. Her opponents didn't merit the slightest glance.
"It's what I always do, I think about all the early mornings Mum and Dad got up to take me to games and all the sitting around in the car, waiting for me to finish training; all the extra hours they worked so I could have the coolest netball shoes; the shouting and cheering from the sidelines; the tournament trips they paid for ... I know it's so cliched, but they are the reason I have been successful. We never had much as kids, but they always did whatever they could to support us all."
Maybe it was the confidence all that success brought - and you can add a supporting role in the Ferns' 2006 Commonwealth Games gold medal campaign - but the fizz of that first year in black was followed by a new relationship with rugby player Roimata Hansell-Pune.
Having won his own world title as part of the New Zealand 2004 under-19 rugby team, this professionally fit couple had a lot in common.
"Which means he understands, well, we both understand, I guess, what each other is going through ..."
But there is one uncrossable divide: Tutaia is a leaguie. She's even been spotted doing the odd roly poly down the bank at Mt Smart Stadium.
Still, work prevents any squabbling. Tutaia is a full-time netball player for at least eight months every year and, following stints with the Auckland and Waikato NPC teams and the Chiefs' wider training squad, Hansell-Pune has spent the past two years playing for French club US Oyonnax.
Aside from European holidays, the couple maintain a high-tech relationship via Skype, text and email. "We always make time for each other every day, morning or night," says Tutaia. "When you live on opposite sides of the world you have to make that kind of commitment if it's going to work."
Hansell-Pune signed a one-year contract extension in May, so the internet will be getting a fair workout for some time yet.
Which also means Tutaia won't be leaving home any time soon. She's tried life on the outside - she spent a few years playing for the Hamilton-based Magic before the lure of Mum's chop suey became too much to bear. She'd need a big pot too, there are nine people in the Tutaia household, ranging in age from 7 months to 58 years.
"That's where I go to get away from stuff," she says. "I just love to chill out with the family; maybe take the kids to the movies." And because you have to ask when someone says something like that, yes, she wants kids of her own: "Seven boys. I've got a lot of nieces and, well, they're quite hard. I think boys might be easier."
This support structure came in very handy when her career hit its first speed bump at the 2011 World Champs.
Tutaia had been lauded as our saviour at the 2010 Commonwealth Games in Delhi. Suffering from severe calf cramps, she had stationed herself under the hoop as the final went into double extra time. When the chance came to nail the win she potted the gold-medal goal and fell in a heap of exhaustion, relief and elation that even kept her from attending the closing ceremony.
It was deja vu a year later, when, with 20 seconds left in the final against - as ever - the Aussies, Tutaia again held the ball and victory in her hands.
She shoots ... she misses. Australia are world champions.
"That's one of those moments I'll never be able to describe. It's a memorable one, but it's one I just can't find the words to explain. I guess shit happens and for a good month I blamed myself for the loss because, you know how it is, people always remember the misses ..."
On the bright side, the Rugby World Cup was a handy public distraction and she already had tickets to take her parents to Bali before flying on to France and her man. Few in Indonesia or Europe knew about her error, let alone wanted to talk about it, so she was able to escape the subject everywhere except inside her own head.
"In the end what got me out of it was rejoining the girls and preparing for the Constellation Cup. No one ever spoke about it directly but everyone was feeling the same. We needed that closure, we were desperate about that. It's a team spirit thing really, to make things right."
And she did just that, putting in two player of the day performances to give the Ferns an unassailable 2-0 lead in the three-game series last month before a knee injury forced her out of the last game.
Still, she's in a reflective mood.
Tutaia is devoted to her sport, even if the pay doesn't quite reflect the full-time role. So, in case her ambitions as a shoe designer don't work out, she has signed up with agent Sara Tetro to work with sponsors, promotions and charities in the hope of setting up a life after netball.
This led to her connection with Canteen, a charity providing help to teenagers with cancer and their families. She's recently been appearing in advertisements for their bandana fundraising appeal. Two weeks ago, one of the girls in that advert lost her battle with cancer.
"She was a good friend of mine. Cancer is such a horrible disease, I've had family and friends die of it before. So it's very grounding and amazing at the same time when I go into Starship. The kids might be really sick but they're always smiling and just full of life. When I drive home I always have tears in my eyes, because you just never know if that was the first or last goodbye ..."
But the day job is calling again: tomorrow is the start of the Quad Series. This time around the Ferns are playing England, South Africa andZ Australia.
This back and forth with our nearest neighbours is without doubt this country's most intense sporting rivalry and that intensity seems immune to regular repetition.
"The thing is, we don't give an inch to them, they don't give an inch to us and, if you don't go into each match with that mentality, you're going to get schooled and you're not going to win. We always want to win."
She even has her own private rivalry brewing with Australian Diamond Mo'onia Gerrard. There was an off-the-ball moment in that second Constellation Cup test at Vector last month when Gerrard gave Tutaia a cheeky flick as she walked past. "That's because that's all she's got," says Tutaia.
There is some genuine heat there and for Coach Keenan it reflects her protege's growing presence on the court. She is faster and stronger than she's ever been and seems to have silenced the old doubts over her consistency.
Is it down to maturity? Growing from that infamous miss?
"I don't know," says Tutaia. "There never has been a second road for me, netball is all I've ever wanted to do and I have a lot people who believe in me. I guess I'm just in a good place at the moment. I'm enjoying life, and [Magic coach] Noelene Taurua always told me happy people make happy players."
And she's still hard to miss, even on the cloudiest day.