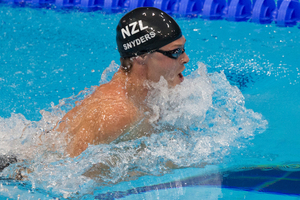 Olympian Glenn Snyders made it two wins in two days in the third round of the FINA World Cup swimming meet in Stockholm today.
Snyders took out the men's 100m breaststroke final after winning the 50m final on the first night.
Fellow North Shore clubmate Melissa Ingram was also on the podium, finishing second in the 400m freestyle, and was fourth in the 100m backstroke.
The pair has won 12 medals in the first three rounds of the FINA Arena World Cup, with the series moving to Moscow on Wednesday and Thursday.
Snyders topped qualifiers in the 100m breaststroke before dominating the final, turning first to win in 57.87s, his fastest of the series and only 5/100th of a second outside his New Zealand record set in the World Cup in Berlin last year.
He held off the challenges from US college-based South African Neil Versfeld, while world championship medallist Aleksander Hetland of Norway was disqualified for an infraction.
Ingram produced an outstanding finish to grab the silver medal in the 400m freestyle in 4:05.37.
Hungary's Katinka Hosszu and Ingram pushed through the field over the final 100m, after double world champion Lotte Friis of Denmark and Ireneke Terink of the Netherlands set the early pace.
Hosszu got up for the win in 4:03.83 with Ingram, still third at the 350m mark, edging out Friis for the silver.
Earlier Ingram finished fourth in the 100m backstroke in 59.62s.
Day 2 results:
Men 100m breaststroke: Glenn Snyders (NZL) 57.87, 1; Neil Versfeld (RSA) 58.51, 2; Fabio Scozzoli (ITA) 58.55, 3
Women 100m backstroke: Rachel Goh (AUS) 57.52, 1; Kira Toussaint (NED) 59.08, 2; Fabiola Molina (BRA) 59.50, 3. Also: Melissa Ingram (NZL) 59.62, 4
Women 400m freestyle: Katinka Hosszu (HUN) 4:03.83, 1; Ingram 4:05.37, 2; Lotte Friis (DEN) 4:05.86, 3
- APNZ