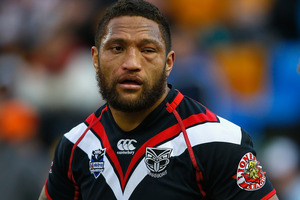 For Stephen Kearney, the beast has become a burden. Kearney has never been a coach inclined to gamble but he took a major punt last night in leaving out Manu Vatuvei.
It was a big call by Kearney - who wasn't overwhelmed by other options out wide - and provided an intriguing sub-plot to the match. The big winger has missed Kiwis games before but always through injury.
Regardless of form, Vatuvei was always seen as an automatic selection, as he remains one of the hardest players to tackle and a terrifying option close to the line.
Ultimately, perhaps Vatuvei was too much of a gamble. Already down on confidence after an NRL season where he made 38 errors (the third most in the league), perhaps there was no point subjecting him to the terrors of Jonathan Thurston and Cooper Cronk and their accurate kicking.
Still, it is understood that the selectors were close to including Vatuvei but decided on a different approach for this match, also aware of the punishing conditions.
Ultimately, it was decided it would be better to let him re-build his confidence next year at Mt Smart, to return to the frame for World Cup selection.
"It was really tough in making selection calls this year and it really was a difficult process," says Kearney. "We thought we would pick a side that would serve us well (last night) and that is what we have gone with."
Kearney wouldn't be drawn on what Vatuvei needed to do to come back into contention but confirmed the winger's Kiwis career was far from over.
"That's a discussion I'll have with Manu and I want to keep it that way," says Kearney. "I've spoken to Manu about that and I'll sit down with him and detail what we are after. There are a number of guys in the same position. Manu's been an integral part of the success we have had over the last five years and that doesn't change. I know what he is capable of and what he can do and he is certainly in the frame."
Vatuvei still provides incredible power carrying the ball forward but the Kiwis felt they had enough ammunition in that area. Instead, they need a defensively solid winger with the speed to take advantage of any line breaks.
Still, you wouldn't bet against Vatuvei lining up in the big games next year and he will be hard to omit.
Meanwhile, Sam Perrett emerged from a remarkable rollercoaster ride at club level to be the senior member of the back five last night.
With the absence of Vatuvei and Jason Nightingale (injured), Perrett was the veteran out wide, alongside the inexperience of Dean Whare, Josh Hoffman and Gerard Beale. It's a fitting reward for perseverance. Over the last few seasons Perrett has experienced phenomenal highs and lows in his NRL career.
After the Roosters finished a creditable fourth in 2008, Perrett had to endure the dramas of 2009 with a squad out of control, culminating in Nate Myles' notorious incident in a Central Coast hotel, where the naked, drunken prop defecated in the corridor. It all unfolded within a supposed heavy team drinking culture and they finished in disgrace with the wooden spoon.
The following year saw the fairytale Grand Final run, before another plummet in 2011 when the Roosters crashed to 11th.
This season started with a similar pattern and, when Perrett heard he was unwanted, he started negotiating with other clubs before a dramatic mid-season switch to Canterbury. At one point it looked like he could be stuck in the wilderness, as he was sidelined at the Roosters but the club was also blocking any move, before eventually relenting.
"There was a lot of turmoil and doubt," remembers Perrett, "I really didn't know if it was the right thing to do. But obviously it's been fantastic and probably a career-changer for me."
Perrett, who missed out on selection for this year's Anzac test, has thrived in West Sydney after being "stuck in a rut" at the Roosters.
There is a noticeable new attacking edge to his game, and he and Bulldogs centre partner Inu combined for many spectacular plays over the back end of the season, particularly in the preliminary final against Souths.
"I've added a few things to my game since I've been at the Bulldogs," says Perrett. "I guess I got a bit stale at the Roosters and it has been enlightening to help out the team in a different capacity."
"I was doing a lot of the yardage sets out of our own half but Dessie (Hasler) uses the big boys to do that more," says Perrett, "It's great - I'm more involved in the attacking plays and it's much more enjoyable and it has probably helped me to get back in the Kiwis."
Beyond the match last night, Perrett is confident all the ingredients are present for a strong defence of their crown at next year's World Cup.
"There are a lot of great young boys here," he says, looking around at his assembled team-mates. "Kiwi league is in good hands and there is so much talent coming through. We are well placed for next year. The main thing I emphasise to the young guys is make the most of everything and leave nothing on the field. Ruben (Wiki) and I were talking about it and we agreed - these times go by quick; they go by real quick."
Perrett, who is completing his carpentry certificates and already has a building renovation business, is also a mentor much closer to home.
His younger brother Lloyd (19), who also switched from the Roosters mid-year, now lives with Perrett and his family.
Sam has high hopes for his brother who has already represented Queensland at under-18 level: "The sky's the limit for him really. He could be a really good player - if he puts in the hard work then he can achieve anything".