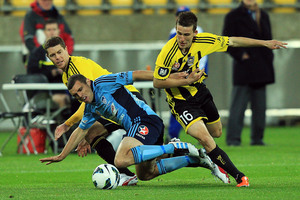 A poll on the Football Federation Australia website asked which of six newcomers, including Alessandro Del Piero and Emile Heskey, impressed most in the opening round of the A-League season.
Hardly surprising that the big names were pushed into the background by Wellington Phoenix debutant Louis Fenton, who captured 35 per cent of the vote. A similar question of the outstanding team of the round might well have brought a similar result for Fenton's Phoenix.
After an entertaining opening round of the Hyundai-sponsored league, the three most-fancied teams - defending champions Brisbane Roar and heavyweights Sydney FC and Melbourne Victory - are, along with Newcastle Jets, who have Heskey on show, occupying the bottom four places. The Victory's goal - scored by All Whites striker Marco Rojas in the 2-1 home loss to neighbours Melbourne Heart - was the only goal scored by the four competition hotshots.
The 2-0 wins for the Phoenix, over Sydney, and Adelaide United, away to the Jets, took two teams seen by many as unfashionable to the top of the table. It was a brave effort by John Kosmina's Adelaide after a hectic mix of travel and Asian Champions League commitments.
Adelaide, with the Phoenix and newcomers Western Sydney Wanderers, were popular picks to prop up the table. By claiming early points the trio have drawn a line in the sand and shown it promises to be a keenly contested season.
Melbourne Victory never recovered from a shaky start last season, failing to make the play-offs after two 0-0 draws and a 1-0 loss in their first three games. Sydney, who drew 0-0 with the Victory and lost to Brisbane in the opening weeks, struggled for much of the season before sneaking into the play-offs.
The introduction of three big-name marquee players had an immediate effect - if not on the scoresheet at least at the turnstile - with a record weekend crowd of 93,500 turning out, with all games attracting more than 10,000 spectators.
The referees were busy without going over the top in issuing 20 yellow cards - and the season's first red, to Newcastle's Mark Birighitti.
All that good first-week feeling could, however, be undone this week with the FFA's insistence the Phoenix must play their away game with Melbourne Heart despite losing seven of their squad to international duty.