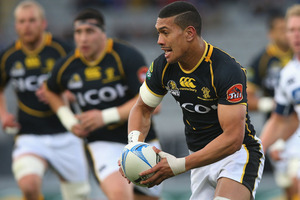 Ardie Savea has been terrorising defences in the ITM Cup recently but he wants to return to the sevens field in time to have a tilt at making the New Zealand side for the 2016 Olympics in Rio de Janeiro.
The younger brother of All Blacks' wing Julian first rose to recognition when he was named in Gordon Tietjens' sevens squad for the Wellington leg of the world series in February.
Although at first he wasn't used extensively, the 18-year-old, who was still playing for Rongotai College's 1st XV last year, credits his time with the sevens squad as the reason behind a number of improvements to his game.
Surprisingly, given Tietjens' reputation for running gut-busting fitness sessions, Savea also put on size when he was with the sevens outfit.
"When I went into the sevens, I was only about 89kgs. I put on the weight when I was with the sevens, which was weird," said Savea, who now tips the scales at 97kgs.
"Being with the sevens, it's helped me a lot with my confidence. If I didn't play sevens I wouldn't be as confident, especially with ball in hand. It's given me the confidence to just back myself."
He wants to put on more weight - he thinks 105kgs is his optimum - in an attempt to impose himself more on games but, despite his growing reputation in the 15-a-side game, he said a return to the sevens set-up was likely.
"Fifteens is the focus, but towards the Olympics hopefully [I can come back to sevens]."
That will be like music to Tietjens, who could find himself in a power struggle over certain players as the Games draw closer and Savea will surely be an All Black by then.
He's the sort of player John Mitchell would probably have taken on the end-of-year tour if he was still in charge of the All Blacks.
Savea's ceiling as a player is incredibly high. He has started seven of Wellington's eight games in this year's ITM Cup and played for the Hurricanes in a mid-season friendly against the Reds on the Sunshine Coast in June.
The former schoolboy long jump champion, who also clocked 11.4 seconds over 100m in last year's McEvedy Shield athletics competition, is Wellington's leading try-scorer this season with five, including a brilliant effort against North Harbour last weekend.
He can be deployed as a No 8 or openside flanker, although he spent time on the wing for his club side Oriental-Rongotai this season and turned out in the midfield for Rongotai College last year so he could get his hands on the ball more often.
Lions' coach Chris Boyd agreed with Savea's assessment that openside flanker was his best position.
"But I think he's probably capable of playing half a dozen positions like a number of young guys are now," Boyd said.
Boyd isn't one to give away praise lightly and offered this when talking about Savea's ITM Cup campaign: "He's been mostly good. He's had a couple of slightly off games but he's growing and learning all the time, so every week is a step for him."
Savea will be on the radar of Super Rugby franchises but he played a straight bat when asked if he had heard from Hurricanes' coach Mark Hammett about a full-time contract.
"I have no idea, yet. I'm just concentrating on ITM Cup and seeing what happens next year."
So you haven't heard anything?
"Nah, not anything."
His next chance to impress will come tomorrow night when Wellington head south to meet Otago in Dunedin.
Although the Lions are looking prime contenders to make a make an impact in the playoffs, Savea adopted a favourite cliche to say it was just one step at a time for the side.
"All our focus is on Otago - hopefully get that out of the way and get five points."
Wellington, who currently sit atop the Premiership, round out their regular season campaign when they host fellow Premiership side Taranaki at Westpac Stadium on October 14.
- APNZ