Tex Teixeira is a sports fan through and through, and has a big on-screen moment to prove the point. But the Portugal-born South African will make his presence felt in New Zealand life from a long way behind the lens, as the new head of sports production for Sky Television. The 46-year-old - the replacement for Kevin Cameron, who has retired - talks to Chris Rattue about his moment in the spotlight, international TV trends and his plans to re-shape our coverage.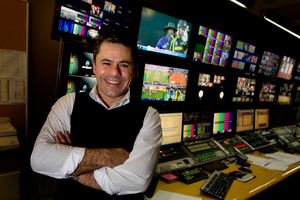 What's on the CV Tex?
I got into broadcasting in 1987, at the bottom of the chain with Mnet in South Africa. I used to drive the VW Kombi vans and work as a tape operator. I was in the right place at the right time as sport became mainstream and pay TV began its boom. I always put my hand up, was able to progress and ended up as head of channels at Supersport, responsible for the outside broadcast units, scheduling and programming. I was one of the guys who introduced the use of slow motion replays and video refs in the Currie Cup, I've worked at three Commonwealth Games, three Olympics, one winter Olympics.
Your best moments ...
Two things stand out. I worked closely with the Springboks at the World Cup in 2007 - (coach) Jake White was my prefect at school and we were very close. I had some VIP accreditation and when the final whistle went, I ran on the pitch and jumped on (captain) John Smit. That was special. You can't see my face but you see the back of my head - you can see John Smit waving and then this little thing appears and kapow.
Then there was the Fifa World Cup in 2010 - I get goose bumps talking about that. Supersport's campaign was called "Once in a Lifetime" and we felt really fortunate being involved. We had amazing moments.
How did you get the job at Sky?
I've worked with Kiwis since 1999 and always got on with them. I've enjoyed the times I've come to New Zealand, the beauty of the place, the simplicity of the people which reminded me of life as I knew it when I was younger. My job is specialised - not many people have hands-on broadcast expertise and management experience. I built strong relationships with senior people at Sky and perhaps impressed them.
Your sporting loves?
I played rugby at school, I like my football, and love cycling. I do mountain biking and compete to achieve personal goals - hopefully I will find nice trails here. I enjoy watching test cricket, as opposed to 50 over and T20 cricket.
What changes will punters notice under your leadership?
I have seen a couple of things but it is premature to comment. I see it more as tweaks than major changes. We want to be world leading in sports production - not followers.
Will 3D be the next big leap in sports broadcasting?
Most broadcasters have experimented with 3D but it is on the back burner until the need for glasses is eliminated. Japan is busy with ultra HD which is HD on steroids but I would say it is a decade away because of the cost even though suppliers would love to sell you another TV. A more important thing is the second screen experience. People are always checking emails, texting mates ... if we are losing your attention to that while you are watching live sport we need to get it back. We can put data and even little video clips on the second screen that are not available on the TV. It is already happening in South Africa and Australia.
There's not a lot of in-depth sports stuff on Sky ...
That's a fair point, but an international situation. Sports broadcasters set themselves up to broadcast live sport with some magazine-style shows and don't necessarily have departments or teams in place for high-end documentaries.
The big one. Commentaries - will there be changes?
Commentators need feedback and we will improve that. We need to continue selling the game and remember the entertainment side of our business, and make sure people come back next week. Our demographics will slowly change with newer, younger viewers so while we will always have the top guys loved by older generations, a fresh pack must come in. Older commentators might not always be in touch with new rules, new players. I always enjoy former captains - they are good speakers, self-motivated and usually good at analysis. Not every great player is a good commentator though - the key is to be passionate about being the best in their field.
In other words, you're lining up Richie McCaw ...
The trouble is I think Richie McCaw will end up as the CEO of New Zealand rugby, or some big enterprise. I doubt he'll be available, although he'd do a good job.
Your favourite commentators?
Joel Stransky is great, Jake White is also brilliant and Sky still use him occasionally. Hugh Bladen is the doyen of rugby commentary in South Africa - he's got the voice. He has his good days and bad days, but when you hear that voice, you know it is rugby. There is a young cricket commentator coming through, who did not play at the highest level, called H. D. Ackerman who is a real gem.
How will you find new commentators?
It depends on how the company wants to go about it. We are constantly watching the youngsters coming through, the captains of teams, to see who speaks well. You earmark them and make contact. There is a wonderful opportunity with the junior sport that we cover, to use as breeding ground. We could make it exciting and do a talent search ...
A degree of free speech has been shelved because of Sky's "commercial partnership" with the New Zealand Rugby Union in particular ...
Commentators pretty much know their job is to promote the game - it is the same everywhere in the world. Sure, they can be critical about players, but what's the point of spending millions on the rights and then rubbishing it to a point that turns people off. Our magazine shows such as The Crowd Goes Wild can tell it straight.
Can we assume Sky is heavily responsible for the relentless six-nights-a-week ITM Cup schedule?
That was done before my time but I can say that we battle to find time to show all these matches. There isn't enough space on the weekend to show them back to back. I'll tell you one thing - when South Africa sees what Sky has done with midweek rugby, they will want to follow suit.
Lucky them ... moving on, Sky is delving into the nooks and crannies, covering schoolboy rugby union and league etc ...
That is vital for our future. I feel it is one of our commitments, giving back to these sports. It is also in our own interest to keep sport healthy. Having numerous thriving sports codes contributes immensely to the GDP of a nation.
What impresses you most about Sky?
We've got the best commentators in the world, with the knowledge, a gift for the English language ... the tone, the accent is absolutely brilliant. Maybe people at home don't feel the same, but trust me, I've been around the world and Kiwi commentary is superb. Sky is a really small organisation that boxes way above its weight. I find people here self motivated, very proud of their inheritance and output.