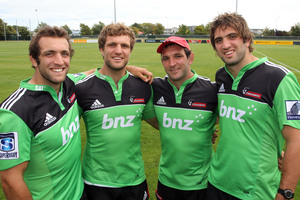 The Whitelocks had a tough decision to make this weekend - watch their son Sam play his 32nd test for the All Blacks - or to go to New Plymouth to see their other three sons play for Canterbury in the Ranfurly Shield challenge against Taranaki.
"Three against one meant that they will watch the shield game and hopefully celebrate with the team afterwards," Sam Whitelock said. "My brothers (Adam, George and Luke) are excited about the challenge and can't wait to get out there to take the shield off Taranaki."
Sam's parents have been to most of their son's home tests. "It was special at last year's World Cup when family and friends could come along."
The Crusaders lock was one of only four All Blacks to play in all 12 tests last year. He came off the bench against Argentina last week and is starting in his 32nd test tonight.
"It's great to start for the All Blacks," he said. "Everyone in the squad wants to play every minute of every game."
Whitelock has not committed to staying in New Zealand until the 2015 World Cup but is in talks. "Playing for the All Blacks is what I want to do and that's it in a nutshell," he said.