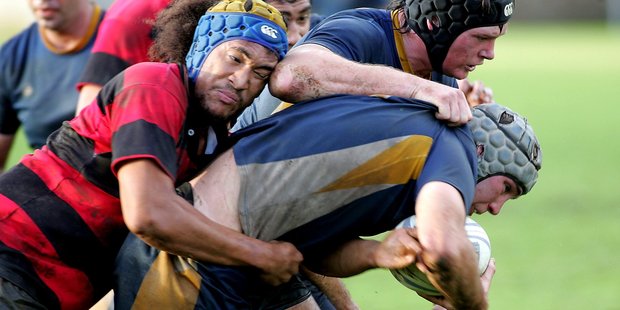 Rugby players who wear headgear and mouthguards believing it will reduce the concussive effects of head knocks are living in false hope.
That's the educated opinion of Steve Marshall, a New Zealand academic who leads the Injury Prevention Research Centre at the University of North Carolina.
While it has long been known that headgear has a limited effect on preventing concussion, it now seems it might have no effect at all.
"We haven't been able to detect a positive effect of headgear in the prevention of concussion," Marshall said.
"I know players who wear them would like that comfort, but even the hard-shell helmets worn in the NFL are not designed to prevent concussion."
Marshall's concerns are echoed by many in the medical profession, but several manufacturers of headgear and mouthguards promote their products by saying they help reduce the risk of concussion.
The website of one large manufacturer says: "Mouthguards also safeguard against serious injuries, such as jaw fractures, cerebral haemorrhages, concussion and neck injuries ... mouthguards may prevent 200,000 oral injuries a year (and) reduce the risk of concussion (by) 50 per cent."
But Marshall responds: "We've never been able to observe a conclusive positive benefit. And I hate saying that, I really do."
Despite the limits of protective headgear, many coaches and parents encourage children to wear them because they reduce instances of cuts and abrasions.
While this is not disputed, neurologist Dr Rosamund Hill has observed a negative spin-off.
"What you'll see in the literature is that headgear makes a player feel safer so they go harder and that defeats the purpose," Hill said.
"The thing with headgear is that it doesn't stop the brain banging against the skull from the inside. All it does is provide a little bit of padding on the outside."
Mouthguards might have a use, even if it is not for the purpose intended. Studies, such as one being run by Doug King in New Zealand, fit electronic sensors to mouthguards for concussion research.
Concussion has become a hot-button topic in sport since a US study linked multiple concussions to long-term degenerative brain disorders in former NFL players.
A 2005 study showed that professional rugby players in England suffer 91 injuries per 1000 player hours, with each injury requiring an average of 18 days to recover and return to play.
Concussion is the third most common match injury, accounting for 62 per cent of match head injuries - and there is an acknowledgment that concussion was under-reported because of the mandatory three-week stand-down period.
The Herald this week ran an extensive series on the issue of concussion in contact sports. These articles can be accessed through www.nzherald.co.nz.