Britain's on a roll ... but the footballers will make sure it doesn't all get out of hand.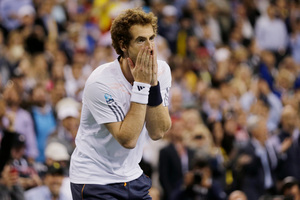 Wars aside, learning to lose used to be as British as warm beer and milky tea. Growing up in not-so-Great Britain after 1966, when England football fans last had something to really shout about, meant living with rain and the cold, hard fact that the country that invented a host of modern sports more often than not seemed to have become rubbish at them.
Wimbledon, home of the world's oldest tennis tournament, became the place where Britons munched on overpriced strawberries while abdicating the business of winning to overseas players - champions from the United States, Switzerland and elsewhere who served up victory, not heroic failures like home-town almost-man Tim Henman.
Rugby was a town in the middle of England that lent its name to the game that the mighty All Blacks subsequently used to rub English noses - well, everyone's noses - in the dirt.
Cricket, which spread with the British Empire, became a favoured Australian method of getting payback on the English who once used their land as a penal colony.
Revenge, it turned out, was a dish best served with a hard, leather-wrapped ball in the hands of Shane Warne.
And, with the years, those who could remember Geoff Hurst's hat-trick against Germany in the 1966 World Cup final at Wembley Stadium in London dwindled in numbers. Because football is England's national game, the decades of disappointment that followed penalty shoot-out losses to Germany and others and being on the receiving end of Diego Maradona's guile and skills at the 1986 World Cup did much to create the impression that being British meant being cursed with either bad luck, bad teams or both.
And it was largely, but not wholly, just that - an impression. Because outside of football, there was plenty of British success, including Nigel Mansell and Damon Hill becoming Formula One champions in the 1990s, decathlete Daley Thompson, runner Sebastian Coe, rower Steven Redgrave and many others winning Olympic golds, and Jonny Wilkinson's last-gasp drop goal against Australia that secured the Rugby World Cup for England in 2003.
Still, in the bronze statue of Fred Perry at Wimbledon, at the home of cricket at Lord's, at Wembley that was demolished and rebuilt, there often seemed to be more reminders of sporting glories past than of glories present.
So starved were Britons of international success that they went giddy for the team of Scottish women that won Britain's first Winter Olympics gold medal in 18 years in 2002 in - how embarrassing - the non-sport sport of curling.
And, in 1997, BBC viewers elected Greg Rusedski as their British Sports Personality of the Year, with Henman runner-up - even though Rusedski lost the US Open final to Australian Patrick Rafter and Henman's best in the Slams that year was reaching the Wimbledon quarter-final. In lean times, they seemingly were the best Britain could muster.
So Britons can be excused for gorging on their summer of sporting success this year. Bradley Wiggins winning the Tour de France, Britain placing third on the medal table at the London Olympics with 29 golds and Andy Murray ending Britain's 76-year wait for a men's Grand Slam tennis champion. July to September have had the feel of a deluge after a drought.
The cynical view would be that every dog has its day, that sporting success comes in cycles and that Britain's fortunes were bound to change eventually.
The more plausible explanation is that there is little accidental about it.
Wiggins retrained and remodelled himself, shedding weight, to metamorphose from being a rider who won six medals in track cycling at three Olympics to one who could scale the Tour's mountains.
Mo Farah, winner of the 5000 and 10,000m in London's Olympic Stadium, moved to the United States for the training he needed to beat Africa's distance runners.
Murray leaned on eight-time major winner Ivan Lendl to straighten his mind and attitude after losing his first four Grand Slam finals. The reward: Olympic gold and the first Slam for a British man since Perry won Wimbledon and the US championship in 1936.
British success this summer has been built on attention to detail and funding. It has been as far removed as possible from the "Have a go" bravado of "Eddie the Eagle" Michael Edwards, the British plasterer-turned-ski jumper who flew, barely, at the 1988 Calgary Games with fogged glasses and scant training in his back garden.
In a YouGov poll of 1704 Britons last month, a few days before the Olympic closing ceremony, 78 per cent said the London Games made them more likely to see themselves as a nation of sporting winners.
Chris Hoy, who got two more golds in London to become Britain's most successful Olympian, with six golds in total, said Britons had been accustomed to being "plucky losers", but that was starting to change.
The trick now is for Britain to make it last.
But the footballers can be counted on to ensure that Britain doesn't get swept away in its euphoria.
England played Ukraine at Wembley on Wednesday in a qualifying match for the 2014 World Cup.
The score: 1-1.
Down to Earth - with a bump.
- AP