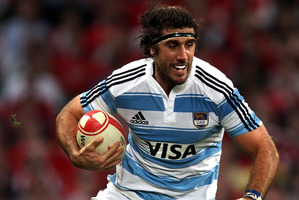 Lobbe says the Pumas' inclusion in the Rugby Championship is testament to the work of past generations. Photo / Getty Images
Just pronouncing his name invokes some sort of mystical leadership powers.
Juan Martin Fernandez Lobbe: for those of us raised here, there is a regal hint about the moniker of the Pumas captain.
The 30-year-old leads Argentina into the Cake Tin tomorrow as his side enters the next phase of their Rugby Championship itinerary.
Lobbe missed the sides' duel at last year's World Cup when left knee ligament injuries ruled him out of the latter stages of the tournament.
Not that he went home. Lobbe offered to do any job he could for Los Pumas; he was passionate about them finishing the tournament in style.
Even though he was incapacitated, he became duty boy for a few weeks, doing all manner of errands.
That journey ended when they were beaten 33-10 at Eden Park by the All Blacks in the quarter-final, but Lobbe and Juan Martin Hernandez, arguably the most critical players in the side, missing from that match, will suit up tomorrow.
Hair flowing and beard bristling, Lobbe will be at the forefront of their work.
When the Pumas came oh so close to their first win against the Springboks a fortnight ago, Lobbe was colossal.
The ball seemed to be a magnet in his grasp as he coerced his troops towards what looked like a famous triumph, until a fateful charge-down allowed the Boks to escape with a draw.
Lobbe's impact does not surprise his compatriots. He comes with a strong rugby pedigree and has been in robust form for Toulon in France.
His father played rugby but called it quits early to care for his family, though he still coaches at the Liceo Naval club today.
Elder brother Ignacio played lock for the Pumas and another brother played sevens for Argentina.
Lobbe oozes rugby, he genuinely loves the sport and understands what it has done for him and how he can pass that passion on to comrades and the next generation.
He is delighted the Pumas have been included in this part of the international rugby scene.
After school, Lobbe went to university and finished his civil engineering degree before he contemplated a fulltime career in rugby.
Initially he was not good enough to make an impression. He admits it.
But he still had the hunger and watching his brother succeed gave Lobbe even more drive to reach the top.
He did not play test rugby until he was 25 and while, or perhaps because, he was a late developer, Lobbe wants to pursue his sporting career until at least the next World Cup.
He has also risen to captain his national side after a four-year apprenticeship to Felipe Contepomi, the spirited midfielder who, in turn, followed the feisty Agustin Pichot.
When it came time to find a successor for Contepomi, the selectors did not need to take their time or look far. Lobbe was the natural fit.
He played accurately and with great passion. On and off the field he put his team first and loved every minute of his trade.
He is living his dream. His enthusiasm is infectious and he hopes all his teammates suffer the same symptoms.
"We are the lucky ones who will enjoy playing against the best in the world, thanks to many generations before us that put us in this incredible place," he said.
Lobbe is the leader, but he is no ranter on the field, he has lieutenants such as Hernandez and Patricio Albacete who might bark more.
Lobbe is also open to suggestions. He wants his team to succeed and knows he does not have all the answers. His concept of leadership is to share ideas, sift thoughts and get them all flowing in the same direction.
"I have played under very good and charismatic captains but the best way to lead a team is to be faithful to who you are, to do it naturally. I must focus on being there for the team."
Lobbe encourages his Pumas to enjoy the moment. He wants them to soak up this important time in their country's rugby history, he wants them to enjoy the process and the whole episode.
It is not entirely about tomorrow's test in Wellington. It is the build-up, the planning, the search for answers and then a united approach at the Cake Tin. When Lobbe addresses his troops, no one is distracted.
The No8 is very methodical, very organised, highly disciplined and ultra fit - he is the ultimate Gaucho Gladiator.