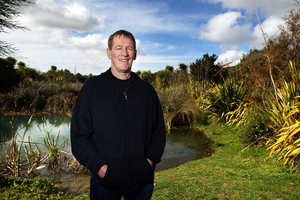 Coach became a cabbie when league no longer paid the bills for former Kiwi.
As a Kiwis forward, Graeme West would run the ball up. As a taxi driver when league ceased to pay the bills, he would run after fares who fled rather than pay.
Now, after 30 years based in the north-west of England, where he won all the prizes league there can offer, the former Kiwis captain has returned home and is looking forward to a decent summer. He brings with him a story of a rich life, full of contrasts.
He won all the major trophies as a player and coach with Wigan but when things got tough, he drove taxis for over a decade and spent two years as part of a motorway maintenance gang. The former would sometimes involve chasing "runners" from his taxi, the latter would find him sometimes cleaning graffiti off tunnels in the middle of winter.
"I've had a great time," smiles West, "and whatever has happened, you can put down to the experience of life. I've always said that league doesn't owe me a living and it never has."
He took on the taxi job after being sacked as Widnes coach in 1997, a few months after he had left Central Park. He says his interest was first piqued way back in 1975, when, in Sydney for the NSWRL grand final, he took a cab driven by former coach and player Roy Masters, who told him how much he enjoyed the part-time work.
His presence on the streets of Wigan often created a stir; he had been league royalty in the city for almost two decades. For us, it would be a bit like jumping into a taxi on Queen Street and finding Sir Graham Henry at the wheel. A Facebook page Graeme West is the best taxi driver in Wigan was created in his honour and fans relished the chance to talk league.
West enjoyed the job's flexibility and got better dealing with 'runners': "At first, I used to chase them but then I thought there has got to be a better strategy. If anyone looked a dodgy, I would ask them to pay up front."
West also became canny, drawing to a halt right beside a parked car, meaning the front seat passenger couldn't move, even if friends in the back seat tried to run.
The motorway job came about through a friend, who had a contract with the local council. They worked on the sprawling network of roads that encompass greater Manchester, doing repairs, cleaning graffiti and mowing grass verges. It was hard physical work, in all the elements but West loved it.
"I was with my mate and we were quick," remembers West. " we would get everything done before lunch and then go to the gym in the afternoon."
West was a legend of the sport here in the 1970s and 1980s. A rangy 1.95m second rower, he made his Kiwis debut as a 21-year-old in 1975. He was a key member of the 1980 touring team to Britain and France and, after coming close to toppling the Kangaroos in 1982, was Kiwis captain on that historic night in 1983 at Lang Park when they beat Australia for the first time in 12 years.
But it was in England where he really made his name, with more than 200 games for Wigan. During his term as head coach achieved the grand slam - (the World Club Challenge, the League championship, the Challenge Cup, the Regal Trophy and the Premiership) a feat unmatched before or since.
West decided it was time to head home after the last of his three adult children finally moved out; they were just two, seven and nine years old when they left for England. He completed a biography last year From Hawera to Wigan (including tales of two inspirational great uncles - one a 1950s elephant trainer, the other an All Black, Alf West.
Wigan had yet to achieve powerhouse status when he first arrived in 1981. They lost the 1984 Challenge Cup final (Joe Lydon was a match winner for Widnes) before winning a Wembley classic 28-24 over Hull in 1985. These were magical days, with imports such as Peter Sterling and Mal Meninga, while West's Wigan team-mates included Brett Kenny, John Ferguson, Gene Miles, Ellery Hanley, Andy Gregory and Dean Bell.
West was a permanent fixture until the late 1980s and even made a brief playing comeback in 1992 as a 39-year-old when he was on the coaching staff, after an injury crisis hit the club. He took over as first team coach in 1994, when John Dorahy was sacked. Among many truimphs, Wigan's trip to Brisbane for the World Club Championship was probably the highlight.
"We went there with a depleted team and I could tell the boys were tense and nervous," recalls West. "I gave them two days off to go and enjoy themselves. When they returned, they came up with a perfect training session." Wigan, which included Kiwis Frano Botica, Inga Tuigamala and Sam Panapa, trumped the Broncos 20-14 in front of over 50,000 fans. West was sacked in February 1997, after declining an offer to be moved upstairs into a football manager role.
"I've had a fabulous time but it's good to be home," says West, "I'm not the type of bloke who will be looking back over my shoulder."