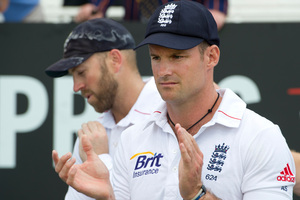 No one was going to let Andrew Strauss forget about the elephant - or was it a buffoon? - sharing the room but he had nothing to say about the egregious behaviour of Kevin Pietersen.
Not in so many words, at least. In fact, had he launched into some Shakespearean denouncement of the man who had plunged the last days of his quite brilliant stewardship of the England team into the shadows, he could hardly have done it more eloquently.
For all his frequently sublime ability, Pietersen has always presented a huge challenge to anyone attempting to inflict the concept of a team.
It is to persuade him that he does not occupy the very centre of the universe and, for so much of his reign as England captain, Strauss had performed the trick admirably.
He did it most conspicuously well while shaping the historic achievement of Ashes victory on Australian soil - and yesterday we had more than an echo of that performance.
No, Strauss insisted brusquely, KP's messy, adolescent fingerprints had no place in his decision to retire - a decision that ushers in a new era of the England game.
At 35, he had consulted those instincts which had served him so well through 100 test matches, 21 centuries and a climactic, if brief, visit to the top of the world test rankings. Those instincts spoke of a critical fall in levels of energy and ambition. He had run his course, he announced with great - though lightly styled - dignity.
But then what did English cricket do with Pietersen?
The new captain, Alastair Cook, and England and Wales Cricket Board managing director Hugh Morris said it was a situation which had to be dealt with behind closed doors.
You could hope that when the decision was reached it would be done in the full light of the time since 2009 in which Strauss had worked so closely with team director Andy Flower - and the manner of the old captain's departure.
Sport, like most other things in life, Strauss suggested, is never fixed in a set pattern, it flows and it ebbs, and always there is a new dynamic to consider. In his own case it was the powerful sense that already he had done his best work.
Plainly, Strauss had taken a long and penetrating look in the mirror, an example which only extreme optimism might persuade us that Pietersen is likely to follow.
More relevantly, can Pietersen convince Morris and Cook that he has indeed reflected on his unspeakable decision to provide aid and comfort to South Africa during the course of the recent test series?
Can he can convince anyone beyond the celebrity Twitterati that, at the age of 32, even his extraordinary natural gifts are enough to justify the possibility of still more poisoning of the team ethic which Strauss and Flower cultivated so relentlessly after Pietersen's own aborted captaincy?
For the England hierarchy the choice could hardly be starker. On one hand they have Pietersen's outrageous ability; on the other they have an uncontrollable ego.
There is, of course, another factor.
It was the value system which Strauss, shrugging off the witlessness of those decisions to place first Andrew Flintoff, then Pietersen ahead of him when the captaincy passed from Michael Vaughan, had held to so unflinchingly.
Yesterday he was emphatic that he had been thinking resignation for some time and that the KP episode was not a consideration. "You know when the time is right," he said, adding that if the job had brought a terror it was only the one that he might outstay his welcome.
Strauss forged with Flower a partnership that produced an environment in which complacency was dispatched as briskly as the worst of individual foibles - and for a little while it seemed that even the great Pietersen believed.
After a dream-like double century in Adelaide on the way to the Ashes triumph, it seemed that nothing short of a gag could stop his praise of the culture imposed by Strauss.
Yet in a little more than two years the hero of Adelaide is performing as the most shameless of fifth columnists. He is disparaging his teammates for the psychological and, we are told, perhaps even the tactical benefit of his opponents in one of the most important test series of his career.
It is reasonable to believe that there can be no way back from such mind-numbing treachery.
Quite correctly, and hardly surprisingly, Strauss did not leave his public marker on the Pietersen issue when he made his farewell. Rather, he underlined the kernel of his decision to walk away: it had concerned simply his ability to bring value to the team. Of course, he had moments of individual pride, but nothing compared to the moment when the Ashes urn was returned to him on Australian soil. That, you have to believe, was the meaning of a natural-born captain, and it is one that England may have reason to mourn soon enough.
Much depends, of course, on what happens behind those closed doors. Yesterday, out in the open, it didn't seem so hard to distinguish between what was right and wrong - and, not least, unforgivable.
- Independent