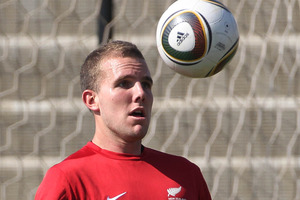 Jeremy Brockie's rich vein of form on Wellington Phoenix's Indian tour continued last night when he knocked in another hat-trick in his side's 3-0 win over Royal Wahingdoh Sports Club in Shillong.
With seven goals in two games, Brockie is showing the form that made Phoenix coach Ricki Herbert pursue him in the off-season and the club will only hope he continues bagging them when the A-League starts in October.
It was the Phoenix' third game in six days and it showed in the first half when it took them a while to get into their stride. Coming to terms with the artificial pitch was also difficult.
Brockie raised his team's spirits in the 27th minute when a lovely ball from Alex Smith set him free and the free-scoring striker coolly lifted the ball over the advancing keeper.
From that point the Phoneix were always in control and in the second half found some of the rhythm they had showed in the first two games of the tour.
Brockie made it 2-0 30 seconds into the second half and looked to have completed his hat-trick shortly afterward when he volleyed the ball home only to have it ruled out for offside in a disputed call.
Chances came and went with academy player Louis Fenton again in good form, but it wasn't until stoppage time that Brockie completed the scoring from the penalty spot after Fenton had been brought down.
Herbert rang the changes again in the second half and, when the final whistle went, the Phoenix had seven under-21 players on the pitch.
"The goals keep coming for Brocks and they aren't tap-ins, either," Herbert said. "The timing of his runs is first-class and he has been assisted by some fine delivery.
"Our level was down a little with it being our third game in six days, but we managed to control the tempo of the game and kept the momentum going when needed.
"We emptied the bench again and the young players are going to benefit a lot from playing in these games. We are slowly building an understanding with the younger players at the club and need to keep working on every aspect of our game."
The Phoenix will face Shillong Lajong or URO United Sikkim in the final of the North-East Super Series on Saturday.
- APNZ