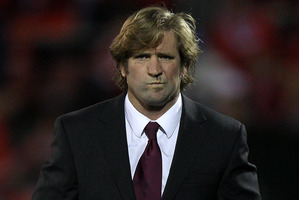 The next Warriors coach is set to be the highest-paid in the country, earning even more than All Blacks coach Steve Hansen.
Whether or not they entice Storm coach Craig Bellamy - who appears to be their No1 target and would command an astronomical price tag - the club will have to pay a significant sum to meet their stated aim of luring the "best coach possible" to Auckland.
But the Warriors' search for a replacement for Brian McClennan comes at a time when NRL coaches have never been such precious commodities. There is not a plethora of proven coaching talent; demand far exceeds supply. Add in the new A$1 billion broadcasting deal and candidates are able to seek premium salaries.
Australian reports have indicated that Bellamy, who comes off contract at the end of next season, could command up to A$1.2 million ($1.5m) a year for his next deal given his outstanding recent coaching record and reputation.
Bulldogs coach Des Hasler is said to earn around A$850,000 ($1.1m) at Belmore, while Wayne Bennett's deal at the Knights is believed to be more than A$1.5m ($1.9m).
Former All Blacks coach Sir Graham Henry was said to have earned around $500,000 a season (including win bonuses). Hansen is believed to be on a similar deal.
"We want to get the best coach possible," Warriors CEO Wayne Scurrah told the Herald on Sunday. "[The money] is all speculation at this stage and I don't want to comment on that. Let's just say we are after the best person we can get and there are a number of factors that go into that scenario."
Warriors owners Owen Glenn and Eric Watson have a combined net worth of around $1 billion, so writing a few large cheques should not be an issue, especially as coaches' salaries are not part of the salary cap. As seen with Bennett and Hasler, the right offer can turn heads.
Scurrah seems impressed by the effect Hasler has had at the Bulldogs, who are runaway leaders of the table after finishing outside the play-offs in three of the past four seasons.
"There has been a transformation there almost immediately," says Scurrah. "How good is that team after years of disappointing results?"
A complicating factor is the urgency of the Warriors' situation. Scurrah wants someone in place before the start of pre-season on November 1, ideally in the next month. This will be crucial. The club also hopes to appoint a football manager and support staff. Logically they cannot be confirmed until the head coach is in place.
The club also hopes to sign two or three more players for the 2013 season and are believed to be well under the salary cap at present.
"We have the ability to spend more [on players]," says Scurrah, "but we are spending more than ever before. There are still a few spots open for next season and ideally that would be done in consultation with the new coach. But if a high quality player becomes available, we wouldn't risk losing the chance to sign him."
There is reason for optimism over Bellamy. He may be ready for a new challenge after 11 years in Melbourne and has always had a lot of respect for the Warriors organisation.
He enjoys the opportunity to develop talent and would relish the mountain of local talent available at New Zealand's only NRL club.
Bellamy is also accustomed to working in an environment where league is not the major code in town.
However, he is also likely to be pursued by the Roosters and Dragons. The Dragons have shown their ability in the past to snare a big name (Wayne Bennett) but the Roosters seem the real danger. Owner Nick Politis may not have the financial resources of Glenn and Watson but he has unparalleled influence in the corridors of power. In the words of one league identity, "he usually gets what he wants".
The Storm will also fight to keep Bellamy as will the players; Cooper Cronk is said to have a get-out clause in his contract and could join Bellamy at his next club but it is doubtful that both Cameron Smith and Billy Slater could also be squeezed into a new team.
Bellamy tried to make light of the situation when quizzed by Australian media on Friday.
"I didn't really know until this morning that I'm going to earn all this money if I go over the ditch," joked Bellamy. "I suppose it could be worse and no one would want you ... it's part of the game, speculation about players and coaches.
"At the end of the day, I'm on contract here till the end of next year and I've never broken a contract before and I don't particularly want to start now."
While Bellamy may be staying out of it, it is hard to believe his manager John Fordham has not already been in contact with the Warriors.
Of the other big names, Bennett is unlikely to uproot his family, though Knights owner Nathan Tinkler's recent financial issues may change his situation at Newcastle.
Roosters coach Brian Smith has an excellent record, though he has yet to take a team to the title.
Daniel Anderson has good and bad history with the Warriors while Mal Meninga, Stephen Kearney and David Kidwell are all unproven as head coaches at NRL level.
Before McClennan was appointed, the club considered around eight CVs before settling on their shortlist of McClennan, Tony Iro and John Ackland.
Scurrah expects "an even more robust process" this time. "We have a brand new board and Owen [Glenn] is very engaged. It will be more robust than ever."