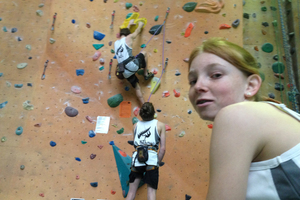 Young Olympic hopefuls to taste elite pressure at World Champs.
Five young Kiwis head to Singapore this week for the Climbing Youth World Championship from August 29 to September 1.
The event, which is run by the International Federation of Sport Climbing (IFSC), brings the best young climbers from around the world together and there is added weight to performing in 2012.
All the competitors and selectors have an eye on the future as sport climbing is one of eight sports vying for inclusion in the 2020 Olympic Games.
Sport climbing has taken off worldwide. As an example, there are more than seven million regular climbers in the United States, where the number of first-time participants has increased by 20 per cent in the past year.
The youth age group is of particular interest as these climbers will be peaking in eight years for the summer sports showpiece.
For the Kiwis the World Champs are a rare chance to compete on the international stage and see how they compare with the world's best.
Sian Moffitt, a Year 10 student from Tauhara College in Taupo, cannot wait to compete in her first world championship.
"Being amongst the best climbers in the world will be an overwhelming event but I want to do my country proud," said the 14-year-old who has been competitively rock climbing since she was 11.
"This is such an amazing opportunity for me with lots of new experiences as I've never been out of New Zealand before.
"To represent New Zealand has been a dream of mine since I started competitively climbing, so it is a dream come true. To be able to wear the New Zealand colours and the silver fern is a real buzz."
Auckland's Malina Laloli is also looking to make the most of the opportunity of her first world champs and first-time climbing experience overseas.
"I see the Worlds as a learning opportunity," said the 16-year-old from Pakuranga College.
"I want to see how other climbers view the climbs and the sport, it's just going to be amazing to see all these future pro climbers fully bring it down.
"I've always loved watching amazing New Zealand athletes representing our country, but I never thought that one day I would be doing that myself - it's an honour. New Zealand has produced some amazing athletes and I wish to carry on this tradition."
Ari Tibble, an event co-ordinator at Sport Bay of Plenty and the team manager for the New Zealand Youth Climbing Team, expects his young Kiwi charges to grow on this trip.
"Their greatest competition will be themselves," said the 27-year-old, who has been involved in climbing socially for five years.
"If they can obtain that supreme confidence at each event then they will win the internal battle. It's not for me to say where that will put them in relation to the podium as that is out of our hands."
Tibble said the recent National Cup Series event at the Extreme Edge climbing centre, the biggest climbing meet staged in New Zealand with around 100 taking part, was a good platform for the international competition.
"The competition provided some real pressure for the team so they got the opportunity to experience some anxiety and thrive on it.
"It's hard to emulate the pressure of the world champs here in little old New Zealand and so much of climbing at this level is about the head game."
Tibble admits there's not a lot of depth in the New Zealand climbing scene but some real talent is coming up through the ranks. Experience on the international scene is invaluable for the elite to lead the way.
"There is definitely the potential for a lot of depth; we just need more New Zealand parents to fall in love with the sport like we have.
"Every opportunity to experience pressure is a chance to get better at channelling pressure in a positive way. Supreme confidence in one's own ability helps to reach your potential in this sport. When they have that mindset, they crush it."
Moffitt hopes she has that mindset. She loves being part of the climbing community in New Zealand "because everyone is so friendly and cheers for each other at competitions, it's like one big family".
She likes the challenge climbing provides for the mind, body and soul.
"I have been on a new training programme set by my coach Lossie ... leading up to the Worlds combining climbing, bouldering, endurance, power and strength and have been training four to five times a week. I feel as prepared as I can be."
Laloli, who has been training with this big event in mind, loves everything about climbing.
"It's just purely amazing, it feels like it's a part of me," she said.
The Kiwis know that the standard is going to be a whole new level in Singapore but want to take their own climbing skills to new heights.
"The standard of competitors will be very high but I expect that," said Moffitt. "Watching them will be a great chance to learn more about my own climbing so I can improve too. I'm just really excited about climbing alongside the top youth climbers in the world."

Experts tell novices how to get a grip on sport
Sport climbing is one of eight sports vying for inclusion in the 2020 Olympics. If the International Federation of Sport Climbing is successful with their bid it would bring the sport into an exciting new era. Glenda Rowlands is a secondary school teacher who has been climbing for 12 years and competitively for eight years. She is involved as a judge for Climbing NZ and managed the NZ Youth Climbing Team to the World Champs 2010 and 2011. Bay of Plenty's Lossie Maafu is a current national coach. The 30-year-old has been climbing for seven years and coaching for the past five years. The pair are well qualified to offer advice to newcomers getting a grip on the sport.
For the uninitiated what is the appeal of climbing?
GR: Climbing offers a balance between a physical and mental challenge. There is huge satisfaction in both being able to pull hard moves and overcoming the mental challenge of completing a difficult or intimidating climb. No matter what your age, rock climbing can be a lifelong sport. Because good technique is as important as strength it is an ideal sport for all ages and body types. Climbing works on a grading system which offers a challenge for all abilities and enables athletes to monitor their progress. It is a sport that takes athletes to some of the most picturesque parts of New Zealand and the world. There is nothing more exhilarating than holding on to the side of a cliff and ascending to the top.
LM: The adrenalin rush you get and the feeling of knowing you can get to the top but you didn't, then wanting to do it again and again until you do.
People who try climbing as a one-off often come away with sore forearms - what are some easy technique tips that help the introduction to the sport?
GR: Warm up well on easier climbs with bigger holds and little or no overhang. Use your legs to generate power and to get you higher on the climb. Try not to grip the holds too tightly. When you are stationary on a climb rest on a straight arm.
LM: We get sore arms because our bodies are not used to putting so much pressure on our fingers. There is no way to stop that feeling but some tips to help with it are try using your legs more to push your body up the wall and let the hand support them.
What are the benefits of climbing?
GR: Climbing is an exciting and fun way to increase your fitness and muscle tone. It is a multi-dimensional sport as the physical benefits include the components of muscular strength, muscular power and muscular endurance as well as flexibility. To complete a challenging climb requires a great deal of mental preparation and while climbing you are very much in the zone, your mind is totally focused on how your body feels and what the rock feels like. You have to believe in your ability and not be afraid of taking a fall. The feeling of self-esteem when you successfully complete a climb is unbeatable.
LM: The benefits are the friendships, the missions you go on and the drive to succeed - not to mention the workout.
Safety is obviously a big factor - any tips for starting out staying safe both for the climber and the belayer?
GR: Indoor sport climbing is a very safe sport with very few accidents. Most climbing gyms will require climbers and belayers to have brief training before the can climb in the gym. Some gyms also require climbers to have a belay licence before they can lead belay. Outdoor sport climbing on well-developed crags is still extremely safe. I'd recommend attending an introductory climbing course to get tuition on belaying, knot tying and setting up anchors. Most gyms offer courses as well as the NZ Alpine Club. Team up with an experienced climber until you are more confident with your skill level in climbing and belaying. Any accidents that do occur are usually as a result of a lack of communication between the climber and belayer. Before climbing, be very clear with your belayer about your method of descent.
LM: Safety is number one. Always seek professional advice. Starting at an indoor gym is great in that it is a controlled environment. You can find new friends that are skilled climbers with great knowledge of safety.
Does the sport have a good social community and how has the sport grown in recent time in NZ?
GR: The climbing gyms are a great place for friends to hang out and have fun. Many gyms also run social evenings and weekends away climbing outdoors. Climbing crags are a great place to meet climbers from around New Zealand and the world. A lot of my Facebook friends are climbers that I have met from different parts of the world. Some climbing areas have camp grounds specially set up for climbers like Whanganui Bay, Kawakawa Bay and Paynes Ford.
LM: It has a great sense of community and friendliness. It has definitely grown down in Rotorua at our gym. I think there is a lot of potential in this sport but not enough coaches to grow it. If we are looking at the Olympics we need to have coaches out there targeting kids now and starting the training.