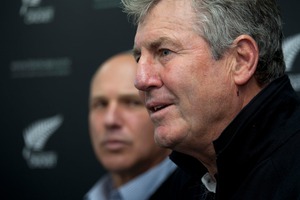 The Olympics managed to hide much of the Black Caps' dire tour of the West Indies. But now, as sports editor Paul Lewis writes, the national cricketers are lined up for a tour of India that will take an Olympian effort if they are to salvage their reputations - and more than that.
From whatever angle you examine the Black Caps' coming tour of India, there is one inescapable conclusion: this team is playing to preserve the health of the game in this country and they have an incredibly difficult job to do so.
It's not do-or-die for cricket but it might be do-or-dwindle. That is not just an analysis stemming from the Black Caps' woeful tour of the West Indies. It also comes from the mess New Zealand Cricket has created around the management structure and coaching of the team and the curious inability of the players to solve their form problems.
The West Indies tour did not help. It was partially obscured by the overlapping focus on the Olympics and New Zealand sporting heroics there - but it was a double-edged sword.
Many fans simply dismissed what was happening in the Caribbean as a sporting irrelevance, never a good basis for the success of a sporting code.
The backwash from the appointment of Australians John Buchanan and Kim Littlejohn as director of cricket and national selection manager respectively and the loss of coach John Wright (as a result of what might be termed philosophical differences) was bad enough. Then it became known that Wright had asked NZC for training camps to prepare his team for the West Indies but was refused his wish list, allegedly for budgetary reasons.
Whether this was a final piece of politicking or further evidence of the 'disconnect' at the top of the game isn't important now. The result was important - and the Black Caps looked miserably under-prepared and rusty at the start of a tour which saw them soundly beaten in all forms of the game.
At the end of the tour, Wright - in a statement which gained little notice during the height of Olympic fervour - made some telling observations.
The Black Caps' batting again let the tourists down as they slipped to a 2-0 test series defeat and the former test opener said the players had to be harder on themselves.
"That's a particularly important part of that process. You have to have self-responsibility and be accountable for your actions in the middle and you just can't come off and wave it away with phrases like 'it's the way I play' and 'I didn't quite execute' etc, etc. It's a brutal game at the international level and you have to be very brutal in your self-analysis and really honest," Wright said.
"The other aspect is it's always very helpful if your team-mates are brutally honest with you and if you play a particularly inappropriate shot at any stage. Then you know if you go back in to that changing room you're not going to get exactly 'the welcome' and that's the sort of environment you need to create. Ruthless self-analysis combined with pretty strong standards and peer pressure from your fellow team-mates and that's something I think is an area we can grow in."
Asked by APNZ's Daniel Richardson how the Kiwi batsmen could be better, Wright added: "It's basically the players have to understand that it's no use to make the same mistake over and over again. You've got to learn from your mistakes and the other issue is strike rotation ... I think that's one of the key skills that the players have to practise and learn because getting the singles will get you to the other end and it doesn't allow that pressure to be built up by facing a number of dot balls."
That is a dreadful indictment of a team which succeeds New Zealand sides of past years which may not have had the talent of this combination but certainly had a strong team ethic. Past New Zealand teams - and we are also talking much later versions than when Wright was playing - did not make it easy for those with ability who were not performing; much of their best cricket came when team members were chipping at each other over their contribution.
Whatever your opinion of Wright - and he is a fan and media favourite for his gutsy approach to the game - those statements seem to point to a team that had not bowed or had not learned to apply the coach's wishes; or to a coach that hadn't managed to get his charges to do his bidding.
Wright had the team for almost two years and to be battling still against 'the way I play' - a pretty clear reference to Brendon McCullum - and powder puff peer pressure is tantamount to an admission of failure.
THE RISE of player power has been well-documented in recent years and has helped turn off many fans. The arrival of vast money in the game has seen many players have their eyes inevitably turned towards the riches of India and the Twenty20 IPL competition.
"If you are preparing for a test and you feel a niggle in the hamstring and the IPL is coming up, what do you do?" said one former test player. "It's pretty clear. It's human nature, isn't it? When you are being paid $1 million in the IPL and $350,000 for your New Zealand contract, what do you do? That's human nature too."
Perhaps one answer is to contract the players differently - so they get financial incentives for playing test matches. Somehow, a way has to be found where the coach once again has the power and does some actual coaching, even of senior players. The bad habits that have come from T20 can be coached out - or at least partly so. Other international teams have not let the worst of T20 affect their test and other play.
All this means new coach Mike Hesson has an almost impossible job for the coming tour; one of the most unenviable in New Zealand sport. His leading bowler, Daniel Vettori, is out injured for the two-test series but will play in the three-match Twenty20 series before shifting to Sri Lanka for the ICC Twenty20 World Cup.
Hesson, who has never before coached a top-level international side, has to pick up a team that has slumped remarkably since that far-off test win against Australia under Wright. The one thing in his favour is that at least the team has had more cricket time in the middle than they had ahead of the West Indies - but India is a tough, tough tour, as Wright knows only too well.
They will be pinning their hopes on a good showing in the T20 World Cup in Sri Lanka. Even though this is the least credible form of the game, it is on a world stage and the New Zealanders do have the ability to be competitive.
IN THEIR advertisement for a new coach, NZC wonderfully described themselves as a "world-leading sporting organisation". This is the world-leading organisation that took months to decide on a new captain after Vettori stepped down - and the same organisation that appointed Buchanan over the top of a surprised and offended Wright.
This is also the world-leading organisation that decreed that Brendon McCullum would be rested for the early bits of the West Indies tour. Arguably our leading batsman and definitely someone who might be able to take it to the Windies, he was withheld because there was a lot of cricket ahead.
With one misguided thrust, NZC reinforced the impression among many fans that our cricketers are lazy swine who do not care as much about representing their country; who take defeat lightly because they are far more interested in the IPL's big dollars; who continually fail in the same areas and know they will still be selected.
You'd think any world-leading sporting organisation would ensure the best possible results from an expensive and important tour like that of the West Indies. Instead, they put in place measures that led to embarrassing losses.
In the Herald on Sunday last month, cricket columnist and former Black Cap Mark Richardson had a pop at the "arrogance" of NZC in not holding the training camps and the fact that the Black Caps' performances were disenchanting fans in this country.
He wrote: "... people are gravitating away from it ... You do not want the apathy that appears to be greeting a Black Caps performance at the moment ... Something has to happen to reinvigorate cricket in this country and a lackadaisical approach is not going to do it."
Only too true. The death of cricket as a major sport in this country has been posed before. Now, to prevent that, the NZC board, officials, the new coach and the team have to become a "world-leading sporting organisation".