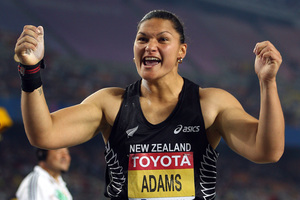 You could say new Olympic gold medallist Valerie Adams is riding on a cloud but, this summer, she could be throwing in a cloud: downtown Auckland's The Cloud on Queen's Wharf.
While there are no dates yet confirmed, Adams' manager Nick Cowan is hoping to attract an international shot put field for an indoor competition in the structure built for last year's Rugby World Cup.
The inspiration came from Adams herself after her involvement at two key shot put events in Europe - the Diamond League meetings in Stockholm and Zurich, both held in unusual venues.
The DN Galan "Big Shot" event is held in downtown Stockholm at a specially erected shot put venue which has an unusual atmosphere and is much loved by Adams.
She won there yesterday with a best effort of 20.26m, beating new Olympic silver medallist Yevgeniya Kolodko from Russia (19.08m) by over a metre.
The Zurich event is even more unusual - held in Zurich's main train station. When Adams and Cowan were in Auckland at The Cloud earlier this year, she exclaimed that it was a perfect site for a similar indoor event in Auckland.
"Stockholm and Zurich were the inspiration for the idea," said Cowan, "and Val is very keen on it. We did look at doing something similar [before the Olympics] but it didn't work out for a variety of reasons.
"Now, however, there is a strong chance it could happen this summer. I will be looking at bringing the other two medallists from London down to compete [Kolodko and China's bronze medal winner Gong Lijao].
"Both events are held in countries where the shot put is revered like we revere our All Blacks and rugby," he said. "We want to see if we can replicate that here."
Adams is competing in the Stockholm and Zurich Diamond League meetings - a series of 14 track and field meetings throughout the world - to ensure she wins the shot put title which carries a significant cash bonus.
Points are awarded to the top finishers in every event, with the overall winner in each discipline at the end of the season given a US$40,000 ($50,000) prize, along with a diamond trophy. However, it is not known if that exact figure applies to the shot put.
Similarly, any track athlete who breaks a stadium record in Stockholm will be given a one-carat diamond - worth up to US$4000 ($5000) - but it is also not clear if that applies to the "Big Shot", a comparatively new event. Belarus' Nadzeya Ostapchuk did not compete in Stockholm.
However, even if Adams does not win a diamond, she could be up for gold in Auckland. If other efforts to collect her medal fail, it is possible she could be presented with the Olympic gold at The Cloud event. Cowan said Adams had been stunned by the amount of support she had received since it was announced that she had won the gold.
"I told her that the All Blacks had come out and spoken up and that I had had 79 individual media requests to talk to her today and she was just like a little kid. She was stunned and just said ... 'Wow'."