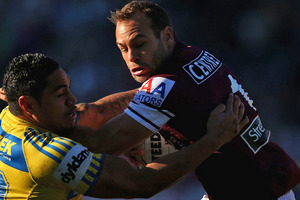 A look ahead at round 24 of the NRL and the key matchups and talking points.
Game of the week
1. Broncos v Storm or Bulldogs v Tigers
Take your pick of a couple of Friday night belters. The Tigers reannounced themselves as potential finals players beating the Dragons last week, while the Bulldogs continue to roll towards the minor premiership. It's a statement game for both clubs and should be played at finals intensity. The same goes for the Broncos' match against the Storm at Suncorp. The Broncs have been on a major slide since battling past the Warriors in round 19, while the Storm have just re-emerged from a slump of their own. Both sides need a win to lay down a marker ahead of the finals.
2. One-club man
Brett Stewart has revealed his inspiration for signing a new contract with Manly came from former teammate Steve "Beaver" Menzies. "I used to look at Beaver and admire how he was a one-club man," Stewart said.
"There aren't any more loyal fans than those at Manly and I know what they thought of Beaver." Menzies played 349 games for Manly. Oh, and 57 for Bradford and 42 for Cat-alans Dragons, which makes him a three-club man, but who's counting?
3. Round-one thrashing
Good news, Warriors fans. The painful defeat of the season to Manly at Eden Park never happened - at least according to Geoff Toovey and Sydney's Daily Telegraph. Previewing Sunday's Knights-Sea Eagles match at Brooky, Toovey said. "The Knights outplayed us up there in round one. Hopefully we can put in a better performance." Mate, hopefully your mob turn up to the right ground. The Knights outplayed the Sea Eagles 32-6 in round 19.

4. Roll on next year
Hockey-style players' challenges are to be trialled in the Toyota Cup. Captains will be allowed unlimited challenges to refereeing decisions as long as those challenges are proved correct. The system will be tried for the first time in an under-20s match between Manly and Gold Coast at Skilled Stadium after being approved this week. Under the model, each team will be allowed one incorrect challenge per half. No word on how many mistakes referees are allowed before Bill Harrigan picks them off from the sideline with a sniper rifle.

5. You've got to be kidding, ref
Souths halfback Adam Reynolds has signed with the club to the end of 2015. The favourite for the rookie of the year award, Reynolds has ensured it's been "Chris Who?" at the Rabbitohs this season after Chris Sandow's high-priced (some might say inflated) defection to the Eels. Impressive Bulldogs centre Jonathan Wright goes to the Sharks next year, where he'll join Penrith pair Luke Lewis and Michael Gordon. And the Warriors have signed, um, Todd Lowrie.
6. Just sign here
Don't worry, Chooks fans, she's all gonna be sweet next season. James Maloney will form a wonderful halves combination with Mitchell Pearce and Sonny Bill (nod wink nod) will be awesome. That was the message from Roosters coach Brian Smith at a fan forum this week. "Sometimes you know that I know and I know you know that I know," Smith told fans when pressed on whether the great man had signed. Crikey, no wonder his players seem to have no idea what he's talking about.