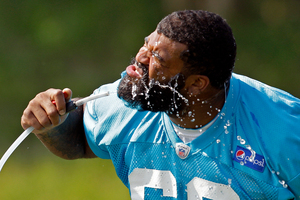 Text wars
Andrew Strauss will demand to know the exact content of the text messages Kevin Pietersen sent to members of the South African team before he will accept him back into the side.
Pietersen and Strauss will hold face-to-face talks after this test in a bid to find out if they can resolve the problems of the past week. A key element to that process will be Pietersen confessing to what he texted to his friends in the South African side. Strauss, said he feels "let down" by Pietersen and wants to hear from the man himself what has been circling as rumour and hearsay.
Swear word
The texts are thought to contain an Afrikaans swear word describing Strauss, and his most obvious mode of dismissal. Pietersen yesterday issued an apology but only for sending "provocative" texts. Not good enough for England.
"If we are going to resolve those issues we need to do it face to face, away from the media spotlight and away from PR companies and press releases," said Strauss.
"That is not helping any of us at this stage. This [apology] is a step in the right direction but this issue has not just been about the text messages. There has been a broader issue about trust and mutual respect. That issue I am keen to resolve but it is not going to be resolved overnight."
Left right out
On Sunday England will have to submit their 15-man squad for the World Twenty20 tournament in Sri Lanka and Pietersen's name will not be included. With a test match to concentrate on, the management are putting the Pietersen issue on hold until after this match and it is believed the World Twenty20 squad has been selected, along with the squad for the one-day series against South Africa. It appears his best chance of appearing at the tournament will be as a commentator with sources indicating offers are on the table from television companies to work in Sri Lanka.
Time for a break
Pietersen has gone on holiday with his family to Europe and when he returns next week, England will have moved on to a one-day series against South Africa.
Officials at the England and Wales Cricket Board will begin the process of rebuilding the relationship between Pietersen, his captain and fellow England players.
"If we are going to resolve these issues everyone has to take a long hard look at how things have developed in the last week or two in particular and ask have we all done everything we can to avoid this happening," said Strauss.
"I don't know how and when this is going to be resolved.
My focus will be on the game of cricket for the next week. I personally think it is not a process that can be finished overnight.
"Cricketers are a forgiving bunch but we need to bring stuff out in the open. I have no idea, at the moment, how that process will work.
"I have not spent long thinking about it with very good reason. We have an important test match coming up. Perhaps when the test has finished and dust settled we can move forward. I am sure people in the ECB will be trying to do that in the next few days."
Contract woes
Former Wallabies utility back Cameron Shepherd is taking legal action against English rugby club Northampton Saints after they terminated his contract for medical reasons.
Shepherd, who has since joined rival English club Sale Sharks, was due to join the Saints on a three-year deal this month after seven seasons with Super rugby team the Western Force.
Northampton later cancelled the contract just days before Shepherd was due to join the club on grounds that he failed a medical because of the condition of his left ankle.
Shepherd's Australian-based agent Nick Fordham said in a statement yesterday he was "appalled at the behaviour of Northampton in respect of the manner in which his client and family were treated."
"Expert medical reports from leading independent orthopaedic surgeons and Cameron's former club doctors at the Western Force have concluded that there is nothing wrong with Cameron's ankle," he said.
Missing in action
Thousands of Olympians have returned to their homelands with the end of the London Games but more than a dozen African competitors have not.
An Eritrean athlete is seeking asylum in Britain, and the Ivory Coast's Olympic delegation confirmed that three members went missing last week.
Athletes from Cameroon, Congo, and Guinea have also gone missing.
Athletes attending the London Olympics have the legal right to stay in Britain until November.
National hero
Uganda's only medal winner at the London Olympics cried tears of joy as hundreds of people welcomed him home with celebrations of music and dance in honour of the African nation's first gold since the 1972 games in Munich.
Stephen Kiprotich's victory in the men's marathon race was Uganda's first medal of any kind since the Atlanta Olympics 16 years ago. Lawmakers want to declare him a national hero and his boss has promised to promote him at work and $100,000 has been collected in a fundraising campaign whose goal is to collect half a million dollars for the runner's benefit.
Unknown to most Ugandans before he won in London, the 23-year-old Kiprotich returned home a star and was saluted by a guard of honour mounted by prisons officials at Entebbe International Airport, the kind of treatment usually reserved for the head of state. Within hours of arriving he was whisked away for a "state breakfast" with Uganda's president.