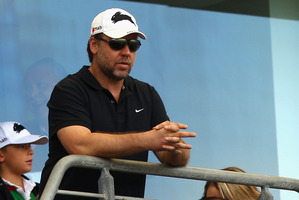 Kiwi actor and co-owner of Australian league team the Rabbitohs Russell Crowe has been accused of hiring private investigators to spy on the club's former chairman.
Long-time South Sydney chairman George Piggins has slammed co-owners Crowe and businessman Peter Holmes a Court for the way he was treated leading up to their eventual takeover of the club in 2006.
In a letter sent to the Sydney Sunday Telegraph, Piggins said dirty tactics had been going on at the time and involved US spies, secret surveillance of his family, and people going through his rubbish.
"Crowe and Holmes a Court used the services of Palladino & Sutherland, a US private investigation firm, to travel to Australia to spy on people opposed to the takeover of the club in a dirt-digging exercise," Piggins wrote.
"Secret photographs were taken of me, my family as well as my supporters, by local covert surveillance operators and we were secretly followed.
"Local investigators were hired to secretly search the garbage bins of those opposed to the takeover bid."
Palladino & Sutherland is owned by US-based private investigator and lawyer Jack Palladino and his wife.
Crowe and Palladino both appeared in the film, The Insider, in which Palladino helped former tobacco executive turned whistleblower Jeffrey Wigand (Crowe) tell of the dodgy goings on within the tobacco business.
Piggins said high-powered public relations staff were hired to heat things up against him and several others who were against Crowe and Mr Holmes a Court taking over the club.
He said he and other top club personnel who were against the privatisation of the South Sydney Rabbitohs - including John Sattler, Gary Stevens, Wayne Stevens and Paul Sait - faced verbal abuse and ridicule.
On Friday, Crowe told fans on Twitter the Sun-Herald had asked for a comment in regards to Piggins' claims but had not shown him the letter.
Yesterday, club chairman Nicholas Pappas said: "It is no one's interest - least of all the players, [coach] Michael Maguire and his coaching staff - that the past is revisited at this time."