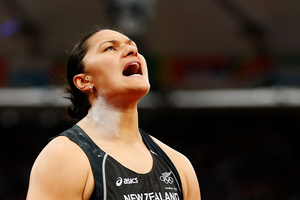 Valerie Adams said the Olympic registration issue which nearly cost her a chance to compete at the London Games 'screwed her up mentally'.
But the Olympic silver medallist - who lost for the first time in 27 competitions - said the mistake was not completely to blame for her 'disappointing' performance.
The night before Adams was due to compete she noticed her name was not included in the shotput competition online. The error was corrected and Adams received her competition bib just hours before stepping in to the stadium.
"I'm very sorry it happened, it was very scary," she told Tony Veitch on Radio Sport today.
"Mentally it had an affect on me, other athletes at the village were asking me why I wasn't on the start list. All I could say was I'm not sure, I'm not sure."
"I had to wait till 6.30 the night before my competition to get confirmation I was able to compete.
Mentally it did screw me up a bit, while I was trying so hard to keep focus on my last training session but the whole time I was thinking 'am I in or am I out?"
Adams said her performance did not reflect the form she had been showing in practice and the hard work she had been putting in to the sport.
"I was great in training, stronger and more dynamic than ever before, but I couldn't find that fire on the day.
"Things got too much I suppose, normally I'm pretty good dealing with the pressure but I just didn't quite fire on all cylinders like I normally do.
"Physically it just wasn't coming together. I didn't feel the punch or the dynamic value I normally had. I can praise myself for giving my all but I just had an off day - I couldn't feel my legs."
Adams escaped to Paris with her family following the final and said it took her about 36 hours to switch off from the 'disappointing' result and to stop talking about it.
"I'm disappointed but at the same time, it's a silver medal at the Olympic Games. I've medalled at every major championship since 2005. It's been a long hard journey but I hope people won't give up on me just yet."
"I'm only 27 please don't write me off just yet - I'm still really keen to go to Rio, it's a whole four years away and another cycle but we just need to get through it.
"I'm very humbled to hear the support I have received from back home - it's been fantastic and helps heal the disappointment."