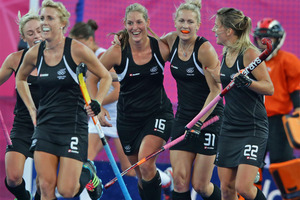 The Black Sticks are poised on the edge of history.
A draw or win against Germany tonight and they become the first New Zealand women's team to compete in the semifinals of an Olympic tournament. One small problem: when they met Germany last month, the Europeans put five goals past them and dealt out what New Zealand coach Mark Hager described as a hockey lesson.
Hager said they would take a nothing-to-lose attitude into the match, even though it is almost the opposite in terms of ramifications.
"We've never beaten Germany at a major tournament," he said. "But that's the good thing about this team. They've [achieved] a lot of firsts over the last four years.
"They gave us a 5-1 flogging that night. They're very disciplined and structured and we have to make sure we're the same against them."
New Zealand beat USA with a late Clarissa Eshuis goal after squandering more chances than they would care to count. The Black Sticks made 31 circle penetrations to the USA's eight, got 15 shots on target and a load more that didn't come within cooee.
According to the official stats, the USA had two shots on target and scored both.
"We should have had the game won at halftime, we had enough opportunities," said coach Mark Hager. "But that's the nature of the game."
New Zealand are now equal top of Pool B on nine points, along with Australia and Argentina. When they meet Germany tonight, their destiny is in their hands.
Win and they go through, draw and they go through, lose and they'd need enormous good fortune.
What they need is better finishing. New Zealand have used their speed to great effect at this tournament, but too often that speed has come with wobbles - usually when it comes to applying the finishing touches in front of goal.
"I'm really pleased they're in the right position," Hager said. "We've got to have better shot selection. Creating chances is the No1 priority."
They also have a new-found discipline issue to work with. Against the USA, New Zealand spent a large chunk of the match reduced to 10. Cathryn Finlayson and Eshuis received green cards and Stacey Michelsen, not a noted rogue, two yellow cards from Argentine umpire Caroline de la Fuente, although both seemed harsh.
"Obviously two yellow cards in a match is not something you want to do to your team," she said. "The first one my stick just got caught between her legs, but the umpire must have seen something different. The second one? I'm not even sure."
Hager said the issue could have been one of "overexcitement" on behalf of the umpires, who were enjoying the Olympics as much as the players.