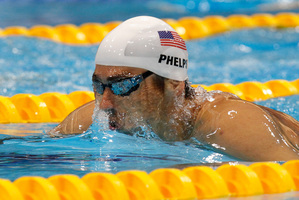 So now he's gone, and the swimming world will never see his like again.
Hold that thought, as the Baltimore Bullet leaves the Olympic pool for good.
Michael Phelps finished in entirely appropriate fashion yesterday with a win.
His part in the United States' 4 x 100m medley gold produced his 22nd and last Olympic medal, his 18th gold and he departs the stage as the greatest swimmer of all time.
There were those beginning to pick over Phelps' bones when he was run over by compatriot Ryan Lochte in the 400m individual medley at the start of the Games meet, the event he'd won at the last two Olympics. He didn't even get a medal that night.
So Phelps took stock and put the doubters in their place. He did what the true greats do, recalibrated his plans and came back hard.
The result? Four gold medals and two silvers from his remaining six events.
Golds were gathered in the 200m individual medley, 4 x 200m freestyle, 4 x 100m medley and 100m butterfly; silvers came in the 200m butterfly - beaten on the touch by the young South African to whom he was a hero, Chad le Clos - and the 4 x 100m freestyle.
Being present for Phelps' final individual gold was a privilege. Relay titles are one thing; you contribute to a collective, but others must play their part, for good or bad.
Solo crowns are different. On Saturday, in the 100m butterfly, he was seventh at the turn but he powered home to demonstrate that the fierce competitive instincts were there until the end.
As he made his way to the starting blocks during these Games, his appearance was slightly goofy; big headphones locked around his head and and a blank look about the arena.
But there was nothing aimless when he hit the water. He was part fish, pure gold.
At 27, it's on to the rest of his life, which will include "eating what I want, when I want". The unchanging pasta and pizza for lunch will soon be a distant memory.
So how will he be remembered? Without question the finest swimmer who has ever hit water. Whether he's the greatest Olympian is a subjective business but he can mount a seriously persuasive argument.
When Mark Spitz won seven gold medals in Munich in 1972, it was thought beyond the scope of the rest of the swimming world.
Phelps burned Spitz by winning eight in Beijing four years ago - 36 years later - so somewhere down the line, those marks of eight and 22 will probably be beaten. Just don't hold your breath.
Indeed, the face of the future may have been in the Aquatic Centre in London, in the form of 17-year-old American Missy Franklin, possessing size 13 feet and dolphin-like qualities in the water. She won four gold and one bronze in London.
And how will Phelps himself like to be remembered?
"I always said I wanted to change the sport and take it to a new level," he said. "That's been a goal since I was 15. If I can say I have done that, that is all I want."
On that score, mission most certainly accomplished.