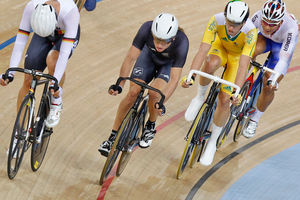 Watched by Sir Paul McCartney at the velodrome this morning (NZT), it didn't quite "come together'' for the New Zealand track cyclists.
Shane Archbold is in seventh after the first day of the men's omnium, an event often referred to as the decathlon of cycling. The Timaru rider with the trademark mullt opened his day with the second fastest time in the 250m flying lap but struggled in the 30km points race later in the day, an event he admits is his Achilles heel, and finished with a sixth in the elimination race.
The Timaru rider is still in with a shot of a medal but might look back on the day as a missed opportunity. He was too passive in the points race and misjudged his run in the eliminator.
With a total of 23 points - riders are ranked after each event with points accumulated based on their finish - Archbold is 13 behind Frenchman Bryan Coquard who leads and nine behind world champion Glenn O'Shea in third.
Earlier in the day, Eddie Dawkins was ousted early in the individual sprint to complete a disappointing Olympics campaign for the Southlander.
He set the ninth fastest time of 10.201 seconds in qualifying in the 200m flying lap but was beaten in both his first round ride and repechage.
"I'm a little bit baffled by it,'' Dawkins said. "I came here feeling really, really good today. I had got all the nerves out from the other day. I rode an OK time [in qualifying] but not a time I was hoping to see. It took me aback. I tried to ride as hard as I could and tactically as best as I could but I just lacked that last bit of speed.''
Dawkins made an error in qualifying for the team sprint, when he missed latching onto the wheel of leadout rider Ethan Mitchell but, after "banging my head against a brick wall'', returned to help the young team to fifth in a New Zealand record time.
The women's team pursuit set a new national record of 3:18.514 in their first ride today but it wasn't enough to get them into the bronze medal rideoff.
New Zealand, led by individual pursuit world champion Alison Shanks, were second at the 2009 world championships but have steadily seen other nations go faster than them over the past three years and Great Britain are setting a phenomenal standard. They broke the world record in all of their three rides, setting a new mark of 3:14.051, to easily claim gold.
"It's hard pretty hard to stand here and watch those medal rideoffs,'' Shanks said.
"Obviously that was our aim coming into the campaign. We knew that gold was going to be a big stretch for us but that bronze was really within reach.
"We had a pretty good pathway this morning to make the bronze medal rideoff. We laid down that time and it was a PB for us but it just so happened there are a lot of other countries out there who are quicker. There's not much you can do about that.''
The track cycling events are certainly coming together for Great Britain, who have won all but one of the five gold medals handed out so far. It left the crowd, even McCartney, wanting to Twist and Shout.
- APNZ