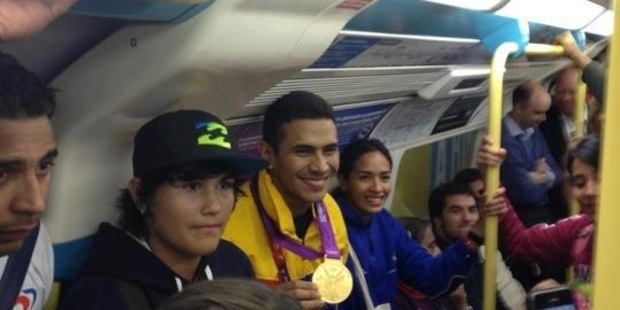 Ruben Limardo shares his gold medal winning effort with commuters in London - to their surprise and appreciation. Photo / supplied
The London Underground would have seen many strange things in 149 years but a gold medal might be a first.
New fencing Olympic champion Ruben Limardo Gascon rode the Tube overnight while wearing his gold medal proudly.
British actor Omid Djalili tweeted a photo of the Venezuelan posing with fellow commuters.
Gascon picked up his nation's sole medal in the men's individual epee yesterday after defeating Norway's Bartosz Piasecki in the final.
It was Venezuela's second ever gold medal at the Olympics and ended a 44 year drought since the first was which won at the 1968 Mexico City Games.
- Herald Online staff