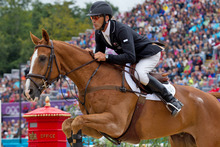 Finishing fourth at the Olympics is rarely enjoyable and there was certainly no pleasure in it for New Zealander eventer Andrew Nicholson.
It was almost inevitable Nicholson would finish just out of the medals after his controversial dressage test when he was subjected to 10-minute delay immediately prior to entering the ring which unsettled his horse and cost him valuable points.
Whether he would still have won a medal is debatable - he finished 4.2 points behind Germany's Sandra Auffarth in third - but he didn't feel like he was given a fair chance from the outset. Delays for inclement weather are almost unheard of and riders plan preparations for their dressage rides down to the last minute.
Nicholson still won team bronze in London and he now has three Olympic medals, but all have come in the team's competition and he was convinced he would stand on the dais as an individual at these Games.
"Gutted,'' he said of his fourth place. "[These Olympics are] the one that got away.''
Nicholson doesn't think he could have done any more. He went into his seventh Olympics with his best horse he had ever taken to the Games in Nereo and the world No 2 had showed throughout 2012 he was in good form.
He was furious after his dressage ride, angry after the cross country and only slightly less aggrieved after picking up a bronze in the team's event. He is still upset at eventing officials - he said yesterday he would never forgive them - and hasn't been reticent about letting them know.
It almost looked like he went out of his way to ram his point home in the rest of the competition and went clear in both the cross country and first round of the show jumping. The biggest surprise was that he dropped a rail in the second round of the show jumping this morning (NZT).
Nicholson has experienced some horrible luck throughout his Olympic career. He's been through eliminations and withdrawals and in 1992 his horse Spinning Rhombus famously spun out and dropped nine rails.
Despite all this, he will be back. At 50 (he turns 51 tomorrow) he's at the upper end of competitors - Mark Todd was the oldest at the Olympics at 56 - but he looks in good nick and is clearly one of the best riders in the stable. He just wants an Olympic medal to truly prove it.
"I'm sure I have more left in me,'' he said. "Nereo will have a lot of years left in him. He's quite young to be at this level, really, and I have another bunch of horses at home; younger ones that are very, very good as well. As long as I have nice horses to ride and I feel I can be competitive, I will carry on.
"An individual medal would have meant more to me [than a team medal], for sure, but if I had got a bronze individually I would probably be kicking myself wanting to have a silver or gold. You just have to carry on, don't you.
"I have two bronze and a silver. I just need a gold now.''
- APNZ
By Michael Brown

Email

Michael