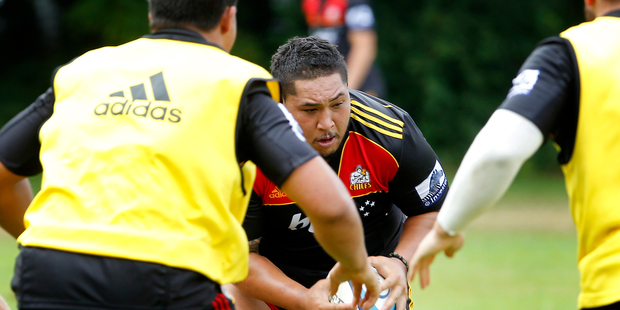 Several times in the conversation, Ben Tameifuna promised the Chiefs would have a "few things up our sleeves" for tonight's scrum battle with the Crusaders.
Those who watched the sides' last duel might offer a "yeah right" response but the big bloke reckons the Chiefs will not suffer as they did three weeks ago.
It has been a heck of a season already for the Chiefs and the 20-year-old Tameifuna, who went from reserve prop to All Black squad member in his debut Super 15 season.
Defeats in their last two matches have divested the Chiefs of any feelings of self-satisfaction or assurance. The job is only half done, a bit like Tameifuna and his almost first test cap.
He does not remember too much about the last game with the Crusaders after colliding with teammate Sam Cane and having to leave Waikato Stadium.
"I was seeing stars and was sick after the game but I got the clearance from the concussion tests and I'm ready for this," he said.
"We just have to remember how we played against the Crusaders in round three."
Former All Black prop Carl Hoeft has fine-tuned the scrum, working on their grips, feet position, all the basics which got the Chiefs in sync for much of the competition.
When players scattered in all directions for the June test break, Tameifuna felt the Chiefs became disjointed and did not regain their set piece cohesion.
"Now me, Sona [Taumalolo] and Mahonri [Schwalger] have got a few things up our sleeve for this game," he said.
Nothing dodgy to upset referee Craig Joubert. There was nothing to be gained in jumping his calls or trying other bits of gamesmanship.
The Chiefs were heavier but the Crusaders looked like they were born to scrum and had been doing it all their lives. They had more technical education but the Chiefs would bring other remedies and spirit to their work.
This season had already been amazing but the Chiefs did not want a full stop tonight.
"I was put under the pump at the start of the Super 15 when I had to come in. I was big but there were questions about how I would come through the season.
"I just put my head down and did not worry about anything other people said. I stuck to what I knew and listened to what the coaches were telling me.
"I was nervous because of the pace of the game and how the game was going to be played.
"But I just focused on one thing at a time and we got there and hopefully will do more this game.
"It has been a huge step from when I left ITM Cup last year to having meetings with the NZRU about my age and discussions about whether my body would cope.
"If you back yourself and your technique, then I think you can go pretty far."
Back in February, Tameifuna was lasting about 50 minutes in a match but now is going close to completing every game. He is proud of that and reckons he will get more mobile when he turns more of his 138kg bulk to muscle and improves his fitness.
He will mark Wyatt Crockett tonight and try to get his taller opponent to come down to his engagement level in the scrums.
"I want to work my way into him but we'll have to work as a frontrow trio to say something about the Chiefs."