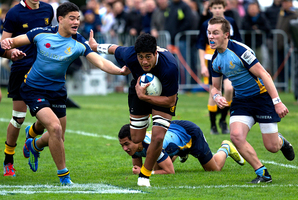 Akira Ioane (AGS) charges through MAGS players during their match last Saturday. Photo / Steven McNicholl
Whether by fluke or design, those charged with making the draw for the Auckland 1A rugby championship could not have done it better.
With two rounds to play both the top spot and the race for the four play-offs berths are wide open. Realistically, only St Kentigern and AGS will be in the race for the minor premiership but four teams still have a chance of reaching the semifinals.
And, as luck would have it, AGS travel to play St Kentigern in the last round on Saturday week.
Before that St Kentigern should stretch their winning run to 10 against Tangaroa on Saturday but AGS face a trickier task in playing third-placed De La Salle away. A win for De La Salle and another against lowly Tamaki a week later could catapult them into second place (and a home semifinal) and push AGS back to third.
Sacred Heart go into Saturday's televised game with King's in fourth place and fully aware that a win would almost certainly confirm a top four finish and slam the door on other hopefuls KBHS, MAGS and King's.
ATHLETICS
Auckland Girls Grammar's Tina (Siositina) Hakeai continues to turn heads.
In a mighty effort at the World Junior (under-20) Athletics Championship in Spain, Hakeai threw the discus 56.19m to become the first schoolgirl in New Zealand to throw beyond 55m which is also the Commonwealth Games qualifying distance.
Her throw, which earned her fourth place at the championships, further increased her New Zealand 18s record which she set two weeks earlier with a 54.49m throw.
Hakeai, who turned 18 in March, is now ranked seventh among under-20 throwers worldwide.
A product of the John Walker Find Your Field of Dreams "Throw for Gold" initiative, Hakeai is now the top-rated discus thrower in New Zealand.
KART SPORT
Palmerston North BHS showed a clean pair of wheels to the opposition at the National Championships in the Hutt Valley.
Led by Josh Drysdale and Scott Blummont, the Manawatu school claimed the honours for a record third time.
Former North Island champion and current CIK Trophy of New Zealand class titleholder Drysdale spearheaded the challenge with a win in the Junior 100cc Yamaha class while Blummont backed it up with a close second in Senior 100cc Yamaha Light.
In a double celebration for the Manawatu region, the primary/intermediate title also went to a Palmerston North school with College Street Normal winning thanks to Jacob Cranston who finished second in the Junior Restricted 100cc Yamaha class and Tom Greig who finished fourth in Cadet.
The championships at the CRC Raceway at Kaitoke attracted 100 competitors from Auckland to Dunedin.
By winning the best supported classes at the meeting Drysdale and Schofield also won the Bruce McLaren KartSport Award presented in association with the Bruce McLaren Trust and Formula Challenge.
NETBALL
First blood to Mt Albert Grammar. A 38-26 win over Tu Toa, another of New Zealand's top netball schools, in the final of the first televised school netball competition was the fillip they were looking for before heading into three major championships.
Led by strong early games from Holly Fowler and Nadia Loveday, MAGS led 9-3 after the first quarter but Tu Toa made some changes and closed the gap to just three at halftime.
MAGS then made some subtle changes of their own with Maia Wilson coming on at goalshoot, Jamie-Lee Price moving to goal defence and Fowler switching to goalkeep.
The changes unsettled the opposition with Price and captain Rebekah Roache making some amazing intercepts as they stretched their three-quarter time lead to six which they stretched to 12 by the finish.
ORIENTEERING
Impressive performances across all three levels laid the foundation as the 17-strong Diocesan team claimed the Premier Girls Trophy at the New Zealand SS championships in Taranaki.
Led by Helena Barnes who won the individual senior sprint race, Alice Tilley, first in the intermediate class race and Barnes, Tilley and Lauren Holmes in the senior section of the team's relay championship, Diocesan were comfortable winners.
The Premier Girls School Trophy award is based on the top 10 placings in each grade in the individual classic races.
The wins in those three grades were backed by Hayley Smith, second in the junior under-14 section, Tilley, Hayley Ewan and Lauren Holmes who were first, fifth and seventh respectively in the intermediate under-16 grade and Barnes who finished 10th in the senior race. Despite their bold showing, Diocesan bowed to Napier GHS for overall honours.
RUGBY
Auckland
After thumping Tangaroa 82-14 in their held-over fixture at the start of the holidays, the trip to Sacred Heart after the break proved another bridge too far for Kelston who succumbed 23-8 to fourth-placed Sacred Heart who used the hit out as a warm-up for this week's television game with King's.
King's comfortably accounted for Tangaroa 41-12 despite a shaky start.
North Harbour
There were only three points in it but in getting home 29-26 over TGS, Rangitoto, making the most of home advantage, scored a confidence-boosting win in the 1A match of the round.
Waikato
After soundly beating understrength St Paul's Collegiate during the school holidays, the Hamilton BHS 1st XV resumed their Super 8 competition with a convincing 39-6 win over Napier BHS.
During the holidays, Hamilton's under-16 side travelled to Australia and won their division at the Gold Coast Rugby Carnival.
On the local scene, Cambridge High School shaded St Peter's School 15-13 in the key match of the day as division one resumed.
SOCCER
It is still tight at the top of the premier league as MAGS went back in front after scoring two goals in each half to beat bottom-of-the-table Rangitoto 4-0. Sacred Heart dropped back to second after playing out a 1-1 draw at St Kentigern. WBHS held third with their 2-1 home win over AGS while KBHS picked up their third win of the season winning 4-1 at home over TGS.
TRIATHLON
The 2013 Contact National Schools Triathlon Championships will be hosted at Pegasus, just north of Christchurch, in March.
The event will return to Pegasus after it was forced to relocate to Jack's Point, in Queenstown, in 2011 after the earthquakes. Pegasus will host the triathlon championships on March 21 and the open water swim a day later.
The same venue will host the national open water swim championships which will follow the triathlon. Participants wishing to compete in both events will be able to do so with the opportunity for the swimmers to perhaps play a part in a team relay on the day before their swimming nationals.
ON THE WEB
www.collegesport.co.nz