Alan Perrott talks to three unsung heroes behind the New Zealand Olympic team.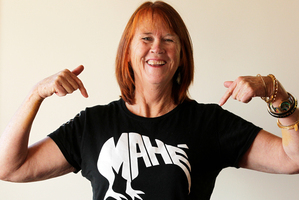 When we see our sporting stars, it is in their official guise. Their game faces are in place, their true feelings are hidden and public comments range around cliches like "full credit" and "winner on the day".
But all of that collapses when they confront Mum, the person who bathed them, fed them and sent them to the naughty chair. No matter what they try to hide, she's seen every face they've ever worn and knows all the highs, lows and fronts.
So, while our athletes might appear 3m tall when they're on the biggest stage in the world, they'll always be Mum's little baby.
Canvas spoke to three Olympic mothers to see how life changed when their children became champions.
Mahe Drysdale's mum Robin Owens
Forget the titles, the dramatic wins and the even more dramatic losses, Robin Owens prefers to watch her son playing with Oslo, his golden retriever.
But then Mahe Drysdale's mother makes no claim to being a sporty type.
You could even make a case for the champion rower's success coming despite her, considering that while living in England she placed him in a Rudolf Steiner school, where competitive sport is a complete no-no. Then, when he called to say he'd made the New Zealand rowing team, she reportedly cried.
"Well, Mahe says I burst into tears. I don't remember being that bad but I do remember I was shocked and upset."
The thing was, it meant he'd have to quit the job at a business restructuring company he'd started only three months earlier, a job that could have set him up for life and "you know, he'd finally be off my hands".
Not that any of this means she isn't bursting with pride. Those who know her well claim to be able to pick out her yelling when Drysdale's races are shown on television. She even runs his fan club.
No, it's more likely that her reluctance to boast has more to do with being a single mum of four. Not only do all her children need her love, she remembers Mahe's days as a tantrum-throwing 2-year-old.
"I've always said he's one of four. They're all different and he just happens to be the one who rows. So when we're together - and that's not very often these days - we don't talk about sport. I usually find out what he's doing from the newspaper or television."
Still, some gentle prodding can get her eyes misting over Drysdale's heroic bronze in the single sculls at the Beijing Olympics, where he raced despite a nasty gastrointestinal infection.
That was a stunning effort and despite being the pre-Games favourite, he won more accolades for losing than he would have if he'd taken gold.
"He was so sick he was almost unconscious," says Owens. "Then he made them drag him to the podium and the other two [medallists] held him up ... it was just my proudest moment. For him and for the fact that he was such a good sport about it. He made no excuses, he just said [gold medallist] Olaf [Tofte] had been the best on the day and honoured him, which just sums Mahe up."
By the time Drysdale handed Owens his bouquet, his eyes had rolled back into his head. "He was in a really terrible situation, it was just so moving."
She had no idea of the reaction here until she returned to Mt Maunganui and found a mountain of fan mail.
"That was stunning, just, wow ... and it took Mahe a while to realise it but in lots of ways he might have lost but things turned out for the better. Of course he was still disappointed - he still says he'd have preferred a simple gold to a complex bronze - but everyone saw he did the very best he could."
The frustration and emotion from that time wasn't exorcised until he rowed the race of his life to demolish the World Championship final on Lake Karapiro in 2010.
It's moments like that when Owens sees her late father, former Tauranga and Mt Maunganui mayor Sir Bob Owens, in her oldest child.
His grandfather was his biggest and most-adored role model. As a 4-year-old, he'd sit in and listen to the business meetings Sir Bob held at home.
"He was quite a challenging child, very strong-willed. It was the power of his mind and his total focus on getting what he wanted. But it meant I never had to tell him to do his homework because he was always self-motivated. He went out and got himself a job at McDonalds, he started up a canoe polo team at school and eventually got on to the New Zealand team.
"Then, when he saw Rob Waddell rowing on television, he decided he could do that too ... I think it's just something he was born with."
Kimberley Smith's mum Jeanette Smith
Arguably New Zealand's greatest ever female runner, Kimberley Smith has only one rule for her mother - and we're breaking it.
"She'd kill me if she knew I was even doing this, it's a real no-no," says Jeanette Smith.
Because it doesn't matter that her daughter currently holds seven outdoor and three indoor national records covering everything from the mile to the marathon, or that she's about to wear the black singlet at her third Olympics Games, talking her up is forbidden.
Then again, would you consider the following comments boastful? "I never thought she had the talent ... I used to get frustrated that she wouldn't train." Or: "I just can't believe how far she's come." Or even: "I'm surprised, I mean she was so laid-back, she didn't have that killer instinct ..."
So hold your horses, Kimberley, your mother isn't bragging, she's more proud of the person you've grown into. And she's a psychiatric nurse, so she knows these things.
"The way things have worked out, it's all about her personality ... as a little girl she was very ordinary and extremely shy," Smith says. "She's still very shy and hates anything that means public attention, that's why you don't hear much about her. But she is obsessive about running and quietly determined to succeed so that she doesn't let anyone down. She always wants to win, don't you worry about that."
To start with though, it was only Kimberley's twin brother who could fire her up. He refused to do anything unless he knew he'd do it well, so they raced each other until she started winning. Then he gave up.
But she didn't take the sport seriously until Rochelle Willoughby, a relief teacher at Papakura's Central School, saw her race. "She was racing against bigger girls, club runners, and she was just trotting along behind them and wasn't stuffed when she finished," says Smith. "So [Willoughby] told me to get her into a club."
She signed up at Papakura Harriers and Counties Manukau Athletics, then mother and daughter started running together.
"I ran competitively until my knees went. Sometimes it was the only way to get her to train. I'd say "come out for a run, it'll only be 10k'. Then she'd start moaning, "this is longer than 10k ..." Now, when she goes running I can't even keep up on a bike ...
"But it was a great time, bringing her up. Looking back, I don't know how we fitted it all in, but I wouldn't have done it any other way."
When Kimberley took up an athletics scholarship at Providence College in the United States, her mother thought she'd get a degree, then come home and get a teaching job.
But college was a perfect fit and after winning four NCAA (National Collegiate Athletic Association) titles - the most by any Providence athlete ever - Reebok offered her a sponsorship deal, and everything changed.
Everything except her personality.
Kimberley now lives in the US and will not race in New Zealand until she feels she has real competition. That's not arrogance, it's that she would feel ridiculous if she won by a large margin. "I even remember one race I saw on the internet. She visibly hesitated at the finish line," her mum says. "It was like she didn't want to break the tape, which was hilarious - she was almost sorry for winning ..."
But there were no such concerns when she ran her first marathon in London. With no idea how she'd go, Kimberley not only won, she set a new New Zealand record in the process. Then there was Beijing, with Mum in the stand, a special occasion because Kimberley had run injured at the Athens Olympics and fretted she'd let her country down.
"I saw my little girl come out in front of that huge crowd ... then there was a close-up of her; she was looking around at everything and my heart skipped. How could anyone run properly in that situation? But if you asked her she'd just shrug her shoulders."
So, while that reserve will always be there, her mother has seen other changes. Once Kimberley discovered her talent, her back straightened, her chin lifted, then her schoolwork improved and she gained an inner confidence.
"I think this shows the importance of finding something that makes your kids feel good about themselves. You just have to keep looking until you find it and then encourage them as much as you can, while making sure it stays fun. You'll end up with a totally different person."
Lauren Boyle's mum Linda Norman
She's got her health. Which may not have been a surefire thing while Linda Norman was still enduring those daily 4.30am winter starts.
But such is life when you're nurturing a top swimmer.
Even now, with the hardest yards behind her, it still seems that her daughter's Olympic dream has a grip on family life. This time, daughter Lauren Boyle's return from a stint at Berkerley has transformed their daily diet. They're all about high-protein and gluten-free, hence the healthy glow.
That's love for you.
"Well, my theory is you're only young once and she's done all that work for all those years. You can't just give that up, so she should try to achieve everything she wants to achieve. I'm so happy for her because she's getting so much from swimming; she's travelled all over the world, had all sorts of experiences she's wouldn't have got otherwise. It's given her so much self-drive."
Actually, it's that self-drive, or more accurately self-driving, that got her to this point.
Norman got her daughter into swimming before her first birthday - getting her used to having water on her face at least meant tear-free bathtimes.
Boyle took to it instantly, becoming a keen pupil and, as a non-working mum, Norman was more than happy to indulge her interest.
Boyle was 6 when she started racing at West Auckland Aquatic. "She was with the really little swimmers, so she was really impressed by the Level Ones and how fast they were." That was her red rag and she immediately set about catching up.
By 11 she was on to regular afternoon training sessions and did well enough to eventually jump into the deep end with the big kids, morning and night.
"We'd have to be up at 4.30am every morning, and that's okay in summer - there were always other parents there so it became quite social and the gym would open at 6am as well - but it got pretty hard in winter. I guess you just had to make of it what you could."
At the same time her daughter was quietly developing a powerful competitive streak, she even had a nemesis to target. Every meeting seemed to put Boyle head-to-head with another young girl with a super-keen father. He would even pack her off for high-altitude training to get that extra edge.
"They'd have been about 13," says Norman, "and this girl would clean up and win everything every time. Lauren never said anything about it but I think she was really trying to beat her. When she finally managed it she was just so elated. That was a really special moment and I think it was a kind of tipping point for her."
Defeated, her rival quit swimming.
That self-driving thing finally kicked in when Boyle turned 15. Off she went to get her licence and Mum got to stay in bed. "That was quite a breakthrough really and she's pretty much managed herself ever since, so I don't think I can take much credit for what she's done ..."
Boyle changed gears again when she got a swimming scholarship at 19. While she didn't set any personal bests during her time there, she came under the tutelage of the US women's Olympic coach, Teri McKeever, who changed her from a sprinter into a distance swimmer, a decision that has made her into a genuine medal contender.
And she got a business degree. Not that she talks about what she'll do after she hangs up the togs. For now she's busy complaining about one of the unfortunate side effects of constant training. It's her hair, it never has time to dry.
As for Norman, now a midwife, she's trying to figure out who her daughter's team-mates are. She has a team photo, but they're all in uniform and, as part of the support crew, she's never seen them with more than their togs on.