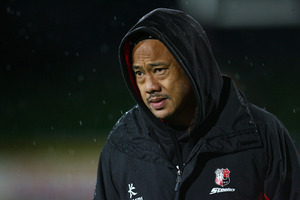 There was a name conspicuously absent from the Blues coaching shortlist - Tana Umaga.
That's because the former All Black captain is empire-building in South Auckland. In typical Umaga fashion he's quietly going about his business as head coach of Counties Manukau and making his presence felt.
Counties have been the great victim of the professional age - their undisputed talent base freely pillaged by all those able to offer more money and greater opportunity.
Not since Jonah Lomu and Joeli Vidiri were wreaking havoc in the mid to late-1990s have Counties harnessed their potential, but they are taking encouraging steps towards recovering those glory days.
Former coach Milton Haig has to be credited with kick-starting the renaissance - a hugely under-rated figure, he tightened the core functions of the region to ensure there was at least a better handle on who who was emerging even if Counties couldn't always keep them. Umaga is building on that.
Former Samoan captain Mahonri Schwalger turned down a bigger money offer to stay with Taranaki to join Counties.
"I have decided to join the Steelers because I am impressed with what Tana is trying to achieve at Counties-Manukau," said Schwalger.
"That was important for us," says Umaga of the acquisition of the Chiefs hooker. "He brings a lot of experience, a lot of ability and he's also from a similar background to a lot of our players which is important."
Important because Umaga sees the talent base as having been a double curse in the past; not only did it result in local players attracting interest from unions around the country, it instilled a layer of complacency among those who remained. In the big bad world of professional rugby, natural talent alone is never enough. Schwalger is a workhorse - proof that it's hard yards, graft and grind that bring rewards.
"That's a point we are trying to get across," says Umaga. "Being talented is not enough. We want players with a work ethic. Instilling that is critical."
The other key to the Umaga cultural revolution has been persuading players to stay. Previously, the likes of Tim Nanai-Williams and Fritz Lee would have been long gone. Counties was not a union Super Rugby players stayed at - Stephen Donald and Sitiveni Sivivatu were typical in that once they were embedded at the Chiefs, they transferred to Waikato.
The prevailing contracting climate has helped Counties with their player retention - geography is no longer relevant in determining allegiance - but just as important has been the presence and vision of Umaga.
He's clear that with hard work and discipline, the Steelers can make it out of the Championship this year. They have a base of experience that will be important and, if they can lay the right foundation, they have men like Nanai-Williams and New Zealand Sevens star Frank Halai who can deliver much needed X-factor.
Umaga has committed to the Steelers for this year and says he's open to extending that. Only 39, he has plenty of time to build his coaching experience. He applied for the coaching job at Munster but that was thought to be more about gaining experience of the interview process rather than any burning desire to move to Ireland.
Many of his peers - Mark Hammett, Todd Blackadder and Pat Lam - are already holding or have held Super Rugby jobs. Umaga appears to be in no rush to get there yet.
"I think it's like everything I have done in my career," he says of his position with Counties. "When I was with the All Blacks I had the goal of trying to leave them in a better way than they were when I started. I'd like to be able to do that with Counties."