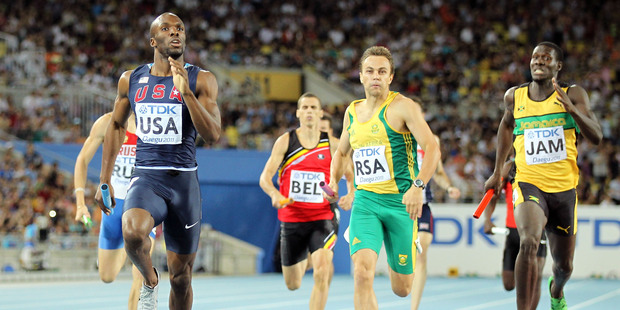 LaShawn Merritt wants to be an actor. Or maybe, he says, he'll get into the fashion world - his own clothing line.
For now, though, it's almost Olympic time and the US track athlete is focusing on defending his Olympic 400m gold medal from Beijing. If he wins, he will become the only man other than the great Michael Johnson to win back-to-back 400m Olympic golds. It would put him on Johnson's level as one of the all-time Olympic superstars.
Only it won't. Merritt has a stain on his record. In April 2010, the US Anti-Doping Agency said he'd tested positive three times for a banned substance, DHEA. Merritt said the cause was a US$6 male enhancement product called ExtenZe. It was designed to make his penis bigger.
Michael Johnson was a machine - a macho, frown-wearing, intimidating runner with a muscular, almost awkward style. He had a gold chain bouncing round his neck as if to announce: 'Shoot, I don't even have to take my jewellery off to beat these guys.' He was the first man (Valerie Brisco-Hooks did it at the 1984 Los Angeles Olympics) to win the 200m-400m double.
Johnson once said he didn't have a pre-race ritual but he had a post-race one. "I stand on the podium and have them put a gold medal around my neck."
Never a whiff of drugs. Before he won his second 400m gold in Sydney in 2000, Johnson had competed in 60 400m finals, winning 57 of them - including the last four world titles. So you can't tell me that a penis-extending Merritt can get within a length of Johnson's reputation even if he wins in London.
Yes, folks, it's Olympics time and you get the inevitable, sinking feeling that the next great drugs sensation is just a little prick away.
It's getting on for 25 years since one of my most vivid memories covering an Olympics - the heaving, shoving, sprawling media scrum that tried to get a commnent out of the disgraced Ben Johnson as the 100m gold medallist left the 1988 Seoul Olympics after failing a drugs test.
Then, as now, the 100m was the blue riband event of the Olympics and the memory of that race is printed deep in my psyche. I and a Herald colleague had bet a few others that Johnson would win the 100m ahead of arch-rival Carl Lewis - and the shock of the drugs finding was only exacerbated by the realisation that the winnings would have to be returned.
Since then, I have been firmly of the mind that drugs cheats should be barred from the Olympics - no second chances and no forgiveness.
The Court of Arbitration in Sport clearly doesn't agree. They threw out an International Olympic Committee rule banning such athletes from competing in the next Olympics - meaning Merritt, British cyclist David Millar and British track sprinter Dwain Chambers have all been cleared to compete in London. The CAS contention was that keeping them out of the Olympics amounted to a second penalty for the time the athletes had already been banned from competition. So? Allowing them in the Olympics is basically rewarding the drugs cheats.
If you want to see the logical progession of this kind of treatment, look at US baseball, where performance-enhancing drug use has been rife. Now Barry Bonds and Roger Clemens, two of the most high-profile players suspected of drugs use, are up for entry to baseball's Hall of Fame. Some US baseball writers - who are among those who vote for HOF entry - have said they will vote for Bonds and/or Clemens, presumably on the basis that drugs use was so common that these guys lifted themselves out of the herd anyway. Way to legitimise cheating drugs use, guys.
The same sort of thing has happened in the Tour de France, or the Tour De Pharmacie as it is now often known. Still a fascinating event, a personal favourite pastime is to watch the Tour and listen to the enormously well-informed TV commentators who know everything and everybody but who studiously avoid any mention of those with a drugs past. Rider Frank Shleck was ejected from the Tour the other day after failing a drugs test. He disappeared without mention from the commentary team. Not a dicky bird.
Bradley Wiggins, the British phenomenon who is the Tour's winner-in-waiting, complained this week of "negative" coverage of his work after he was quizzed about drug use and about winning a Tour which did not contain the likes of Alberto Contador - the defrocked winner who will return next year after a drugs ban.
Bradley, Bradley, Bradley ... there is absolutely no sign that you have ever used drugs or would ever think of doing so. But you can't compete in a drug-ravaged event like the Tour de France and not expect the question to be asked or the scepticism to lodge in the minds of observers.
The USADA and World Anti-Doping Agency have made great strides in recent years and their enhanced vigilance and improved testing techniques are to be congratulated; Beijing was, comparatively speaking, a reasonably drugs-free Olympics. Hopefully, it is so in London - although the presence of Merritt, Millar and Chambers leaves a bad smell in these nostrils.
One event that WADA seem to have had an effect on is one close to New Zealand hearts - the shot put. Valerie Adams is the gold medal favourite. She is the Olympic champion, a three-time world champion, the current indoor world champion and a double Commonwealth Games gold medallist.
That is an imposing list of achievements. Yet look up Val in the all-time list of the world's largest shot puts by women. You'd think she'd be right up the top; top 10, maybe.
Nuh-uh. The website alltime-athletics.com has her best effort listed at 183rd. Go figure. Now that doesn't mean all the women above her were drugs cheats. They are in the official records so we must assume that none of them were.
But it is interesting that the world record has stood since 1987 and is over a metre more than Val has ever recorded.
The Olympic golds of 1980 and 1988 were won with distances over 22m. Only one athlete has bettered 21m in the Olympics since - and then only just. Of the 182 puts better than Val's best, only three were achieved in the past 20 years.
Tells a story, no? An event we can trust. Olympic luxury.