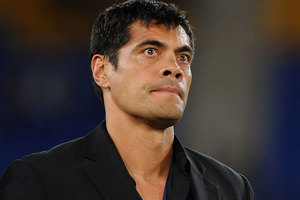 Steve Kearney has confirmed he is stepping down as Parramatta NRL coach.
Kearney said he hasn't spoken with chairman Roy Spagnolo and chief executive Bob Bentley about when he will officially finish up with the club, however it appears likely he will coach the side in Saturday night's clash with Melbourne at Parramatta Stadium.
He denied being pushed and said the resignation was his own decision.
After being appointed as Daniel Anderson's replacement at the Eels ahead of the 2011 season, Kearney has failed to get results and admitted as much in his address to the media on Friday.
Parramatta only avoided the wooden spoon in the last round of 2011 and currently sit in last place this year with seven rounds remaining.
The decision to axe Kearney was reportedly made late on Thursday and Eels captain Nathan Hindmarsh confirmed players didn't find out about the announcement until it had been reported in the media on Thursday night.
Kearney said announcing his departure was a huge relief and he would concentrate his efforts on coaching the New Zealand Test team who are preparing for a World Cup defence next year.
The 40-year-old declined to point fingers over his resignation and said he was proud of improvements he's made in junior development.
"I'm grateful for the experience the board has given me,'' said Kearney.
"It's one I've learnt a great deal from.
"I wish the Eels all the best for the future.
"From my point of view we cold go through a thousand reasons why and why not and I'm not here to give you those reasons today I'm here to say that I think it's time for a change and for the club to move on.''
New Zealand Rugby League boss Jim Doyle said that today's sacking could be a good thing for the Kiwis.
Kearney has juggled coaching roles with the Kiwis and the Eels since the start of last season and will today hold a press conference in Sydney, understood to confirm his departure from the club.
But Doyle today told Radio Sport that the pros of potentially having Kearney coaching the Kiwis fulltime could outweigh the cons.
"The upside of him coaching in the NRL is that it keeps him up to date and keeps him in that high-end environment of activity," Doyle said.
"But the downside is that we lose connection with a lot of Kiwi players, it's difficult to get senior leadership groups together, to plan the future and to connect with Junior Kiwis - guys like Sam Kasiano.
"I don't think the All Blacks lost a great deal by Graham Henry not being a Super 15 coach."
Kearney has enjoyed more success with the Kiwis, leading them to 12 wins from 22 games, and the countries first ever Rugby League World Cup title.
Doyle stressed the difference between the two roles.
"When Stephen works with the Kiwis in the Kiwi environment it is completely different to Parramatta.
"The player roster he has got available is completely different to Parramatta or any other NRL club. Stephen's success rate with the Kiwis has been relatively high."
Doyle said they had discussed plans for Kearney to move back to NZ full time even before he signed with Parramatta.
"We've got plans to continually grow the game, so to have someone of Stephen's abilities in the country, coaching Kiwis but also having time to spend with other coaches to improve their capabilities has always been part of our thinking."
- AAP/HERALD ONLINE