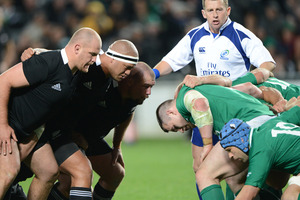 Hi Kamo
I recently watched a replay of a 1988 Wallabies v All Blacks test on TV. What was noticeable was how quickly the scrums packed down and played resumed. On a couple of occasions the ref after blowing the whistle for the scrum had to quickly get off the mark so not to get caught up with the front rows packing down. On the odd occasion the scrum had to reset, there was little delay by players to reform the scrums and certainly no time wasted with "crouch, touch, pause, engage".
I truly believe, for us watching, the game has gone backwards with the scrum taking so long. What do you think?
Trevor Fon-Lowe
Trevor, I don't think we should be comparing the scrum engagements from the '80s to what we are seeing now and expecting a similar result, and there are a number of reasons for this. For one, the physical size of the players has changed remarkably, leading to a greater impact on the hit, with more forces opposing each other.
The All Black pack from the 1988 test weighed 825kg, 80kg lighter than the last All Black team to play in Hamilton recently, who tipped the scales at 905kg. Secondly, the shape of our game has changed, with more players spread across the field as opposed to the older style were we all just went to the same rucks and therefore were ready to go when a scrum was called. And then we have the safety issue which has led us to this four-step process which we are using now. I'm okay with this, as it allows the packs time to get into the correct position to scrum, rather than the rushing that we used to see lead to plenty of bent backs and necks.
Changes are afoot, however, with the IRB about to experiment with a new scrum engagement sequence. The referee will be dropping the pause command and introducing the new call of crouch - touch - set. It is on set command that the two scrum will come together.
Hi Kamo
A simple one for you. Who wins the competition from here? My money's on the Crusaders.
Dave Campbell
Home advantage plays a big part in this competition from here on in and the stats back this up. Of the 16 finals played so far 12 have been won by the home side - a 75 per cent success rate. No New Zealand team has won a final in South Africa, no South African team has won a final here. So as the different scenarios unfold over the next two weeks we will get a clearer picture. If the final is in Hamilton, the Chiefs to win their first title. If it's in Cape Town then they will need their A-game. But for me, it's the Chiefs all the way.