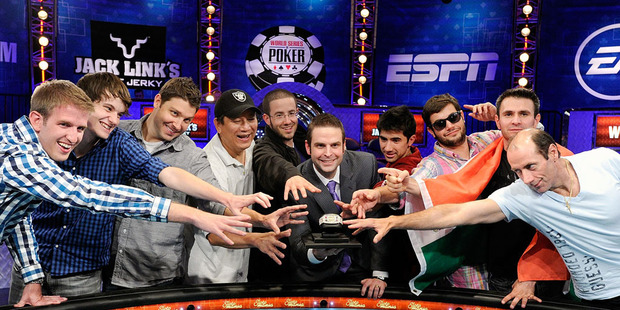 Can you imagine withdrawing $US 10,000 ($NZ 12,500) dollars from your bank, strolling into a casino and handing it over in exchange for entry into a poker tournament?
If you answered no, you are not alone. The majority of hardworking Kiwis would call it an absurd waste of money, a bad idea, or simply too great of a risk.
But 6598 poker players in Las Vegas last week answered yes, and entered the flagship poker tournament of the year - the Main Event at the World Series of Poker (WSOP).
Among those was Scottish-born poker player Neil 'Puggy82' Stewart who was one of New Zealand's top ranked online tournament players from 2008-2011before moving back home.
Stewart had a variety of large online cashes on New Zealand soil, winning the Ongame Championchip for $US 117,000, second place in the Ipoker championship for $US 125,000 and a smattering of other five figure scores.
Stewart busted on day two of the Main Event, but sat down with me to recall his experiences.
When did you decide that you were going to play the Main Event?
This was my fifth year playing the main event, so it wasn't so much a decision, more a given that I was going to play it. Having said that it's not a given now that I will play again next year. To travel all the way to Vegas for one event, the cost of travel and accommodation and partying costs adds on a massive rake to the tournament. In order to justify it you really have to see it as a holiday as well as a poker venture.
Did you play other events?
I played the 1k buy in, a few days before the main event and it was the day after our 4th of July party, so I wasn't feeling too fresh and that may have accounted for me dusting off my stack within 45 minutes. I didn't play more because there weren't any other events available to play for the 10 days I was across. I was there for the full three months last year, and played in a lot more events - but playing in fields of thousands of people doesn't really interest me. You're sat there for a day knowing that even if you make day two, you're still not in the money and in the case of the Main Event you had to make day four to make the money.
Were you comfortable with the 10k buy in?
It is a lot of money. From a purely bankroll perspective there's not many people in the world that can afford that buy-in if they're adhering to proper 'bankroll management'. If the tournament has 6-7,000 people in it you need a whole lot more than 100 buy-ins in order to stop going bust.
But it's a one off tournament - this is one of the marquee, must play events of the year. Ten thousand dollars is a lot of money but it's just something that I do, and I've come to terms with so I don't really think about it. But it's something I will start to think more about in the future.
Did you sell pieces of your buy-in to investors?
In order to reduce the buy in and the variance of the tournament in the past I have had multiple swap deals with other players. This year I only had a couple of swaps and I also sold 10 percent of my action.
None of my swaps cashed, but I bought a percentage of two other players who both made the money, for a combined $50,000, so I made just over 10k on that, but if you then look at how much we spent otherwise it was a loss.
How did the poker go?
The Main event is an incredible tournament. If you look online as you go up in buy-ins, as a general rule the standard gets tougher as you move up. On a Sunday -playing online- you might find a $200 tournament like the Sunday Million is easier than a regular midweek $50 tournament because they run so many qualifiers.
If you look at the World Series Main Event it's basically a big exaggeration of that. It compares roughly to the Sunday million online, you have a ton of qualifiers, a ton of locals who have bought in but you also have the best players in the world so it can often be the luck of the table draw.
I ended up with 94,000 chips at the end of day one after starting with 30k.
On Day Two I researched my starting table online and it looked to be really good, and then I arrived and within 15 or 20 minutes, two or three of the good players at my table busted the idiots, and the idiots had been replaced by more good players. Every time I opened a pot I was getting re-raised or flatted in position and it just wasn't fun. I ended up bluffing off 50,000 chips in a spot that was probably not particularly good. After that I couldn't find a hand and when I did, situations turned that made me fold, and eventually I got the last of my money in with AQ against AK in a spot where I would play the hand exactly the same if I played it tomorrow.
Did you see any interesting hands?
There was this one southern gentleman who after seeing his hand fit to limp for 200 managed to get 5000 of his chips in pre flop. He was heads up against another guy out of position. He check - called a low flop where there were two diamonds, then check-called all in on the turn which had given him a gut-shot draw.
He showed down JT high with a flush draw and gut-shot saying he "knew the guy was bluffing". The guy was bluffing, he had AK, but the AK bluff beats his Jack Ten!!!
The A of diamonds hit the river and the guy jumped up in the air shouted "I knew you were bluffing, GOODBYE."
The other guy was speechless. That was one unusual hand but there were plenty of other hands that were going down while I was thinking 'How is this happening".
What's the Vegas experience like at WSOP? Are people taking it seriously and professionally with so much money invested?
People are nowhere near as professional as they should be in Vegas at the World Series. The majority of professional players treat it more like a holiday with a little bit of poker thrown in and will go out boozing a lot. Perhaps not to the extent of the day before the main event, but then again plenty still do.
This year I was trying to be a bit more professional and didn't party that much in Vegas. There are lots of guys out there spending money like it grows on trees and I am trying to distance myself from them. In the past these guys might have been making a lot online, but it's getting tougher and tougher online, and going out spending $500 for a bottle of vodka at a Vegas club - these guys cant afford it, but its this 'baller' lifestyle that they all aspire too.
So you didn't consider entering the $1 million buy-in tournament?
No it was quite funny though, my business partner Neil McFayden was on the phone to his mum the day before that tournament and said she had seen this tournament in the newspaper, so she called him up to make sure he wasn't going to enter.
That tournament was a funny one too, because you think when a buy-in gets that big it's going to be a really tough tournament, but because it was so big it priced out many of the best players in the world, and then attracted many businessmen who were just there to play. But with $111,111 going to charity from each buy in, it makes it a very heavy rake and hard to profit from.
There are now just nine players left in the WSOP Main Event, and they now take a three month break before re-grouping on October 28 to find the 2012 World Champion

************************
I don't roll on the Sabbath
American poker player Jarrett Nash successfully navigated his way to Day 5 of the $US 10,000 buy-in main event tournament at the World Series of Poker last weekend. Unfortunately for Nash, Day 5 fell on a Saturday - the Sabbath - and his religious beliefs prevented him from playing a single hand. Players looked on in disbelief as his tower of chips slowly dwindled down through blinds and antes throughout the day until he busted in 171st place for $US 44,655, missing an $8000 pay jump by nine eliminations. Nash said "God has a plan" for his prize money.
***********************
Hand of the Week
This is a hand from party poker sent in from Presley Orhue, a recreational player from Queenstown. What a great way to play the river.
***** Hand History for Game 8897377418 ***** (Party)
$400.00 USD NL Texas Hold'em - Monday, February 08, 07:02:31 ET 2010
Table Speed 1384476 (No DP) (Real Money)
Seat 5 is the button
Seat 5: CalmAsQuang ( $400.00 USD )
Seat 4: Der__Fuhrer ( $80.00 USD )
Seat 3: DougieNights ( $878.14 USD )
Seat 6: GrindmasterB ( $864.20 USD )
Seat 1: Knishs_Truck ( $812.70 USD )
Seat 2: coolmen21 ( $500.18 USD )
GrindmasterB posts small blind [$2.00 USD].
Knishs_Truck posts big blind [$4.00 USD].
** Dealing down cards **
Dealt to Knishs_Truck [ Th 8s ]
coolmen21 calls [$4.00 USD]
DougieNights folds
CalmAsQuang folds
GrindmasterB folds
Knishs_Truck checks
** Dealing Flop ** [ 2h, Kd, 9d ]
Knishs_Truck checks
coolmen21 checks
** Dealing Turn ** [ 6s ]
Knishs_Truck checks
coolmen21 checks
** Dealing River ** [ 7c ]
Knishs_Truck bets [$808.70 USD]
coolmen21 calls [$496.18 USD]
Knishs_Truck shows [Th, 8s ]
coolmen21 doesn't show [Kc, Ks ]
Knishs_Truck wins $312.52 USD from main pot
Knishs_Truck wins $1000.36 USD from main pot
Have you played an interesting hand recently? Email me at the address below and I will feature the best one in my next blog.